Maya offers a powerful modeling system known as NURBS—Non-Uniform Rational B-Splines. NURBS modeling is not simply putting objects together. Unlike fixed polygons , NURBS create 3D objects from curves and surfaces. Therefore, NURBS can be modeled in a variety of ways.
NURBS modeling is considered a better alternative to SUBd modeling as it gives you more precise control. They have their own rules and limitations for how you can build, attach, and cut them, but in general, they are quite flexible. The faceted, low-resolution look that often occurs when creating curved surfaces with polygons is easily handled in NURBS models, which can display curved surfaces as virtually any number of polygons.
To make it a little simpler, however, NURBS are simply a variation of splines, which are used to define a curve. Curves are the basis for the underlying mathematical structure of what makes up a NURBS surface. Nurbs modeling has capability for creating:
organic ,flowing surfaces such as animals, human bodies and fruits.


Industrial surfaces such as automobiles, clocks and toasters.


Smooth surfaces adjustable over broad areas with few control points.
Nurbs Primitives
Nurbs primitives are common geometric objects such as spheres, cubes and cylinders. They are often used as the foundation for other shapes.
Sphere
Select Create > Nurbs primitives >Sphere. After you set the options ,click the Create button.
Pivot
By default, the pivot is set to Object and the primitive is created at the origin. If you set Pivot to User defined, you can enter values in the Pivot point X, Y and Z boxes to position the pivots.
Axis
Select X, Y or Z to specify a preset axis direction of the object. Select Active View to create the object perpendicular to the current orthographic view. The Active view option has no effect when the current modeling view is a camera or perspective view.
Sweep Angles
These options let you create a partial sphere by specifying a degree of rotation. Degree values can range from 0 to 360 degree.
Radius
Sets the width and depth of the primitive.
Surface Degree
A linear surface has a faceted appearance : a cubic surface is rounded.
Sections
Set the number of surface curves created on the sphere in one direction. These curves are also called isoparms, show the outline of the surface shape.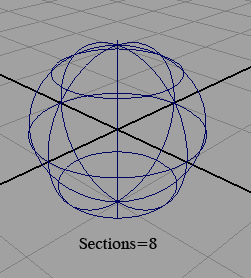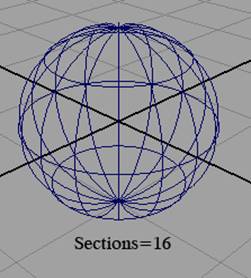 Fig 3-1 Sections
Spans
Set the number of surface curves created on the sphere in the direction that crosses the section direction.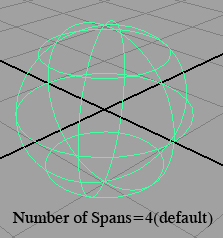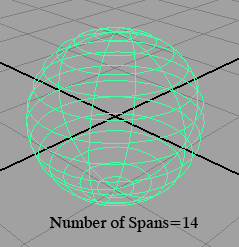 Fig 3-2 Spans
Cube
A cube has six sides, each of them is selectable. You can select a side of the cube in the view or click its heading in the outliner.
Width, Length and Height sets the cube dimensions.
Cylinder
You can create a cylinder with or without end caps. End caps is a unique feature to the creation of the cylinder. You can create caps for either, both or no ends of the cylinder.
Cone
You can create a cone with or without a cap on its base.
Plane
A plane is flat surface made up of specified number of patches .
Torus
A torus is a 3d ring.
Circle
A circle is a curve not a surface. Its features are similar to the sphere.