The ExpertRating Advanced Makeup Artist course is designed keeping in mind your comfort and convenience. You can access the course and all the videos in it from anywhere, anytime. Whether you are a stay-at-home mom or always-on-the-go working professional, you can keep learning. Access it from your home computer, your tablet or your mobile phone - whatever or whenever is convenient for you.

When you choose the ExpertRating Advanced Makeup Artist Certification, you can be sure that you are choosing a respected certification that is recognized by hundreds of private employers and government bodies in the US and other countries.
ExpertRating offers its training and testing services to some of the biggest and best companies in the world, such as Convergys Corp, UPS, GAP, Federal Bureau of Prisons, Coke, Citrix, IKEA Systems, Google and Ericsson, to name a few.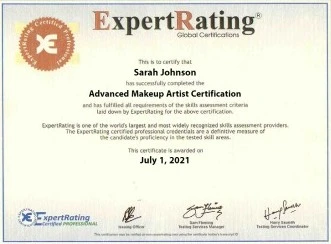 When you purchase the Advanced Makeup Artist Certification, you also receive the highly recognizable hard copy certificate at your physical address within 12-15 days of taking the exam.

The certificate can be used to prove your certified status and does not mention the word "online".
You will receive an online transcript that mentions your score and you can use it to prove your certified credentials on the internet or to employers and customers.
For taking this course, you need internet access, an e-mail account, and any web browser.
WHAT DOES THE FEE INCLUDE?
The fee is all-inclusive, and includes the in-depth Advanced Makeup Artist Courseware, exam fee, hard copy certificate and mailing charges.
HOW MUCH TIME DOES IT TAKE TO COMPLETE THE COURSE?
Most people take 2-4 weeks to complete the course studying 1-2 hours a day.
WHAT HAPPENS IF I FAIL THE EXAM?
In case you fail the exam, you can re-attempt the exam for $10 up to three times.
WHAT ARE THE CERTIFICATION RENEWAL REQUIREMENTS?
The certification can be renewed after one year by paying a fee of $30. You will receive a new hard copy certificate upon renewal.
WILL I HAVE ACCESS TO THE COURSE AFTER I COMPLETE IT?
Yes, you can access your study material at any point of time after successfully completing the certification.