In this chapter, we'll examine a fictional day in the life of Sam, a computer programmer who lives in Berkeley, Ca. Sam is married with 2 children and he works in San Francisco.
Though this is a geographic area that's known for liberal leanings, Sam is constantly frustrated by his wife's lack of understanding about Green issues. She puts plastic bags in the recycling bin, and often throws her plastic water bottles in the trash.
But Sam is very focused on his Green lifestyle and lives as Green a lifestyle as he can. He knows there's more he could do, but right now he's pleased with what he does do.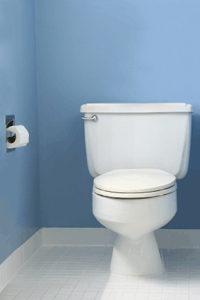 5 a.m. – Sam gets out of bed and heads to the bathroom. He doesn't flush in order to save water, but knows that his wife will flush after she gets up and uses the toilet.
He figures that by not flushing, he's saved at least a gallon of water. Sam and his wife recently replaced their old toilets with newer ones – the old toilets used as much as 3 gallons of water with each flush.
5:15 a.m. – Sam does yoga. Sam doesn't do yoga as part of his Green leanings, but he does think it helps him focus and be more in touch with the Earth. Plus, it feels good first thing in the morning.
6 a.m. – Sam heads into the kitchen to make some tea. For convenience, he prefers tea bags, but realizes that they make more trash, so he uses loose tea and steeps his tea in a tea ball instead.
After his tea, Sam realizes he needs to get ready quickly and makes some oatmeal. He refuses to buy the instant oatmeal in the individual packages and chooses to buy oatmeal in bulk instead. He adds some locally grown organic berries to his oatmeal and enjoys the quiet until his wife and kids get up.
He reminds the kids to put their sandwiches in plastic reusable containers rather than zippered baggies before he heads into the bathroom to shower.
6:30 a.m. – Although it's a cold morning, the family has agreed not to turn the heat on today in order to save energy and reduce their emissions, so Sam decides to take a hot shower. Before getting in, Sam plugs the bathtub so the water stays in the tub. Sam sets a timer for 5 minutes and when it goes off, he dutifully gets out.
6:45 a.m. – Sam uses a large plastic cup to scoop up some of the shower water and he makes the rounds of watering the plants. Watering his plants 3 times a week like this saves about 5 gallons of water. While he brushes his teeth, he shuts the water off rather than let it run, and saves another 2 gallons of water.
7 a.m. – After saying his goodbyes, Sam heads out the door. He walks a mile to the BART (Bay Area Rapid Transit) station to catch a train into San Francisco. While on the train he makes a call to the contractor who's going to install some new insulation in Sam's house today. This will save as much as 30% on Sam's energy bill and will make the house more energy efficient.
8 a.m. –Right before Sam gets to his office, he heads into Starbucks. When he orders his Chai tea, he pulls out an insulated mug and hands it to the barista. He figures if even 1 out of every 100 Starbucks customers did the same, they all could make a significant difference in the amount of trash Starbucks cups generate each day.
8 a.m. to noon – Sam has little opportunity during the day to practice Green habits, but he does recycle every piece of paper once he's done with it and he often pulls paper out of the recycling bin to use as scrap paper for notes and the like. It's not uncommon for co-workers to find little notes from him scribbled on the back of interoffice memos. Mostly, though, Sam encourages everyone to send more emails to save on paper altogether.
Noon – Sam and a friend head to a nearby Chinese restaurant for lunch. The friend wants to get their lunch "to go" so they can sit by the water and enjoy the view while eating, but Sam refuses on the basis that the restaurant still uses Styrofoam containers for "to go" orders. Instead he and the friend eat quickly so they can take a scenic walk before heading back to the office.
During the walk, Sam stops at a fruit stand and picks up more berries and some tomatoes. Buying locally ensures that Sam's food is not trucked across country to get to him, helping the environment, local farmer and Sam's health all at once.
5 p.m. – Sam walks to the BART station and heads out. He needs to make a stop at a warehouse store tonight to get some groceries. He calls his wife to tell her he'll be about an hour late. In his backpack, Sam carries reusable grocery tote bags and he has two large ones he bought from the warehouse store some months ago. They will easily hold his soy milk, meats and bread.
Sam finds that buying in bulk helps the environment in a few ways – he can buy many things in one place rather than travel to different stores for different items and he can buy items in larger packages, therefore reducing the amount of packaging that's manufactured for food and then quickly disposed of.
At the warehouse store, Sam gets a smoothie and a pretzel for dinner. He saves the plastic cup the smoothie came in and brings it to his daughter later. She uses them for painting. Instead of using a paper plate for the pretzel, Sam uses just a napkin, which he figures will take up less space in the landfill.
7 p.m. – Sam walks in the door just in time to take his son to soccer practice. His son has new cleats today because he outgrew his older pair and he begins to throw the old ones in the trash. Sam stops his son and takes the shoes with them to the field. They walk the 1 ½ miles to the soccer field, which Sam sees as a good warm-up for his son. Sam asks the other parents if any of their children wears a size 2 and finds a taker for the newly new cleats his son outgrew.
10 p.m. – Before bed, Sam adds some potato and carrot peels to the family's compost bin.
Do you see any ideas in Sam's day that might help you in your day? Could you give up the Starbucks cup in favor of using an insulated mug (which might keep your drink warmer longer anyhow)? Could you not flush every single time you use the bathroom? Could you take shorter showers, keep your house colder in the winter and warmer in the summer? Could you walk instead of drive?
Learning to live Green isn't about changing your life in a drastic way, though for some people that might be the case. For most of us it's about asking hard questions about each thing we do in our day. Is there something we could do differently that might be better for the environment?
In most cases, making small changes is easy and effortless and adds no undue burden or cost to you. Sometimes you'll even save money and you might even save time. But if your desire is to help the environment, your benefit might be less obvious, but you'll feel it. You'll know that today you did right by the environment.
With that in mind, let's look at some simple changes you can make that will help the environment.