Quadmenus

Quadmenus are pop-up menus with up to four separate sections that surround the cursor. Right-clicking in the active viewport opens these quadmenus. The contents of the menus depend on the object selected.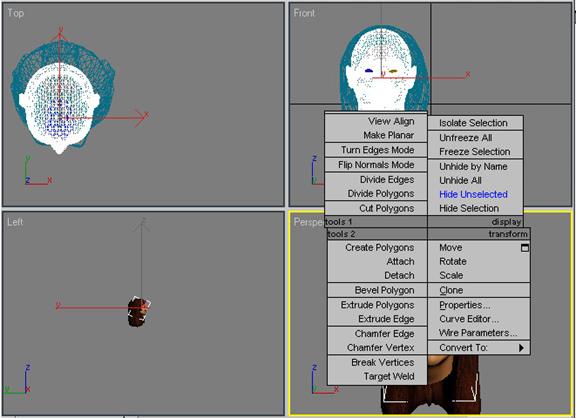 Figure 1-9: Quadmenus
The quad menu allows you to find and activate most commands without having to travel back and forth between the viewport and rollouts on the command panel.
The two right quadrants of the default quad menu display generic commands, which are shared between all objects. The two left quadrants contain context-specific commands, such as mesh tools and light commands. Each of these menus provides convenient access to functions found in the command panel. You can also repeat your last quad menu command by clicking on the title of the quadrant.
Drag andDrop
Dialog boxes that work with files benefit greatly from 3Ds Max's drag-and-drop features. The Material Editor, Background Image, View File, and Environmental Settings dialog boxes use drag and drop. These dialog boxes let you select a file or a material and drag it on top of where you want to apply it.
For example, with the Maps rollout in the Material Editor open, you can drag a texture image filename from Windows Explorer or the Asset Manager and drop it on the Map button. You can even drag and drop Max files from Windows Explorer into the Max interface to open them.
Spinners
A spinner is a control for numeric fields. It has two small arrows on the right. Clicking the up arrow increases the value and clicking the down arrow decreases the value. The amount of the increase or decrease depends on the setting in the General tab of the Preference Settings dialog box. Right clicking on the spinner resets the value to its lowest acceptable value. Another way to control the spinner value is to click the arrows and drag with the mouse. Dragging up increases the value, and dragging down decreases it.

Figure 1-10: Spinners