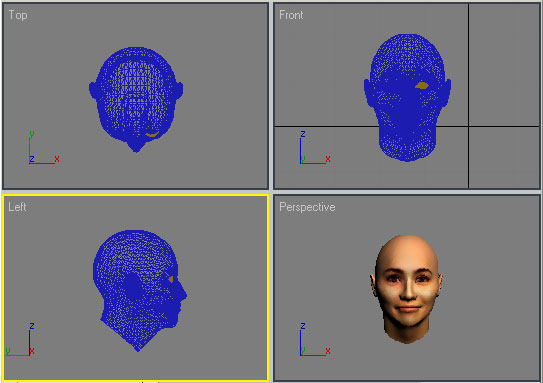 The standard viewports show you several different views of your current project, but within each viewport you can zoom in on certain objects, pan the view, or rotate about the center of the viewport. To zoom, pan, and rotate the default views, you need to use the Viewport Navigation Control buttons. These eight buttons are located at the bottom-right corner of the window.

Figure 1-5: Navigation Control Buttons
Command Panel
The Command Panel is located to the right of the viewports along the right edge of the interface. This is one of the most frequently used sections of the max interface. This is where the object parameters, settings, and controls are located.
The Command Panel is split into six panels, each accessed via a tab icon located at its top. These six tabs are- Create, Modify, Hierarchy, Motion, Display, and Utilities.
The Create panel
It contains controls for creating objects; such as, geometry, cameras, lights, and so on.
The Modify Panel
It contains controls for applying modifiers to objects and editing editable objects such as meshes and patches.
The Hierarchy Panel
It contains controls for managing links in a hierarchy, in joints, and in inverse kinematics.
The Motion Panel
It contains controls for animation controllers and trajectories.
The Display Panel
It contains controls that let you hide and unhide objects, along with other display options.
The Utilities Panel
It contains miscellaneous utility programs, most of which are plug-ins to 3ds max.