Rotate and move the camera and set it as shown in the figure below: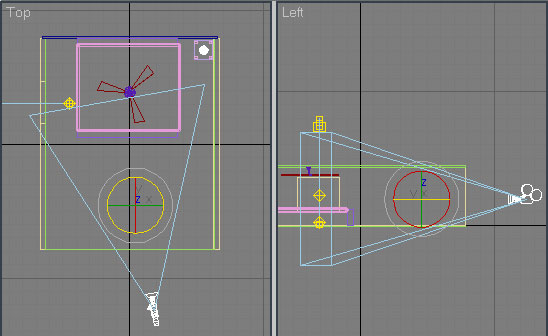 Figure 10-23
Select camera view in one of the viewports. It should be somewhat like the view in the given figure: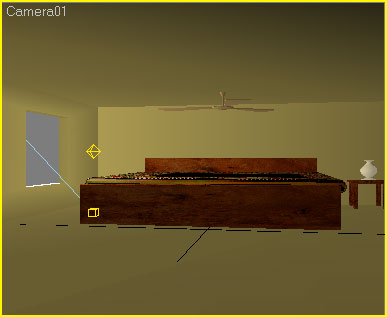 Figure 10-24
Now you are all set up and ready to render the scene to a small video clip.
Rendering
Activate the Camera viewport, if it isn't already active. From the Rendering menu, choose Render. Now you will define the animation range. In the Time Output group, turn on Range if it isn't already on. Set the Range to be from 0 to 100. In the Render Output group, click on the Files button. The Render Output File selector appears. Navigate to a directory where you want to save your work. You can use the Create New Folder button to establish a new location, if necessary.
Now you need to define the type of still image file you will render. In the Save As Type field, click the drop-down arrow and choose AVI File, (.avi). In the File name field, type "helloworld.avi", then click on Save. Make sure Save File is turned on in the Render Output rollout. Make sure the Viewport field at the bottom of the Rendering dialog reads Camera01 (not Top, Front, or Left), then click on Render.

The Rendering dialog appears.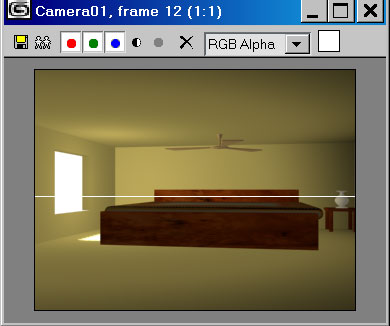 Figure 10-25
Once all the frames are rendered, the rendering process stops automatically. Now you can open the saved avi file with any video player of your choice and play it.