Animation
A fan does not serve its purpose if it does not rotate. This is where animation comes into the picture. In real life, the core of the fan remains still while its wings move. Similarly, here you have to animate the fan.
Switch to the top view and select the wings. Turn on the auto key in the lower interface bar. Move the time slider to frame 5. Now rotate the wings by an angle of 120 degrees clockwise from the top view. Again move the time slider to frame 10 and give another rotation of 120 degrees. Move the time slider to frame 15 and give a third rotation of the same degree. This process creates four keyframes at an equal interval of five frames. When you run the animation between frame 0 and 15, you can see a fan rotating 360 degree, i.e., exactly one turn.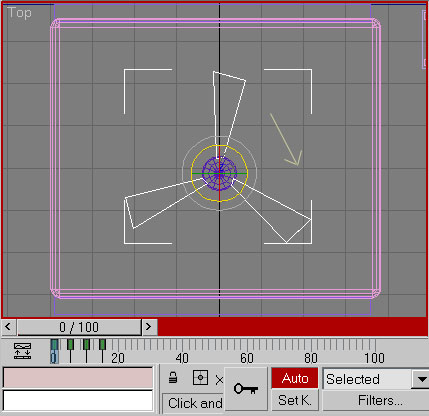 Figure 10-17

Figure 10-18
Lighting and Camera
Next you have to light up the room, considering the daylight streaming inside through the window. This effect will be achieved by creating a direct source of light incident through the window.
The first thing to be done is to add a direct light aimed at the window to let it filter into the room. In the direct light parameters, turn on shadows and set the shadows to 'shadow map', change the multiplier to 1.8 and the color to 254, 255 and 211. Change the hotspot to 60. To soften the edge of the window change the 'shadow map params' to size 250 and sample range to 6.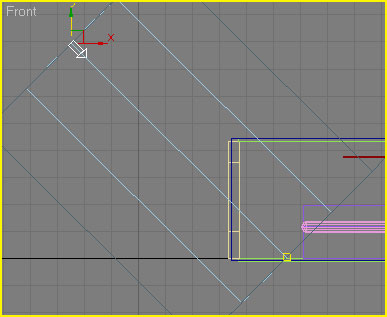 Figure 10-19
Now you have to place an omni just above the floor and in the middle of where the sunlight hits the floor, as the most light will come from there. Once the omni is placed, set the multiplier to 0.4 and set the color to RGB 235, 215, 154. The next step would be to check 'use' in the 'far attenuation', set the 'start' to 200 and 'end to 400. In the 'advanced effects', click on 'ambient only'.
Press F9 to test render the scene.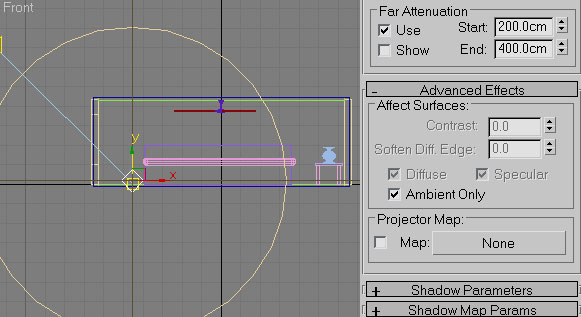 Figure 10-20
Copy the ambientonly omni and move it straight up till it is above the cylinder in the front viewport, set the omni's parameters on these settings. Uncheck the "ambient only" in the advanced effects settings for this new light.
Test render the scene by pressing F9.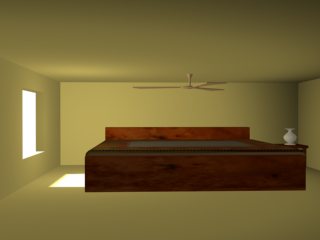 Figure 10-21
You have to set up the camera for the scene. The perspective view that you had been using to preview the scene can also be used for rendering, but it's always a good idea to have a dedicated camera for the rendering perspective.
To create a free camera for this scene, click on the "free camera" button on the camera panel. Click on the top viewport at the position where you want the camera to be.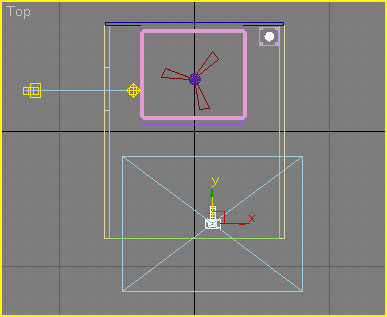 Figure 10-22