To make the wings for the fan, draw a closed line shape in the top view, on the side of the fan core, as a wing would be.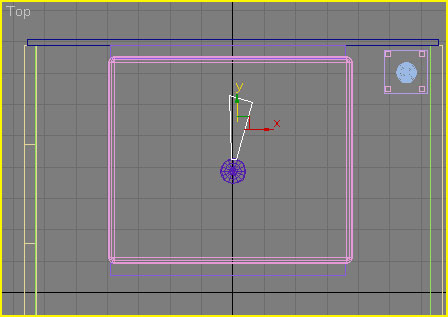 Figure 10-13
Apply extrude modifier on the wing shape to give it thickness. Keep the extrude amount to 1. Now you have one wing of the fan ready. You can shift-drag the original wing two times to create two other copies and position them evenly around the core of the fan.
Right click on the original wing and select "covert to>Editable mesh". In the modify panel, click on "Attach" in the geometry rollout and select the other two wings to make a single mesh. So now you have a single structure of fan wings that you are going to animate.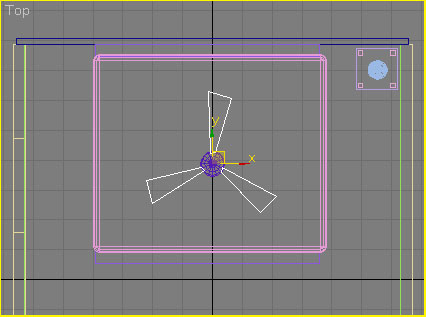 Figure 10-14
Texturing
In this phase, material properties will be given to the objects in the scene. Different colors and different textures will be given to each of the objects that you created.
Open the material editor by pressing "M" on the keyboard. You shall create a material for applying on the walls in the room.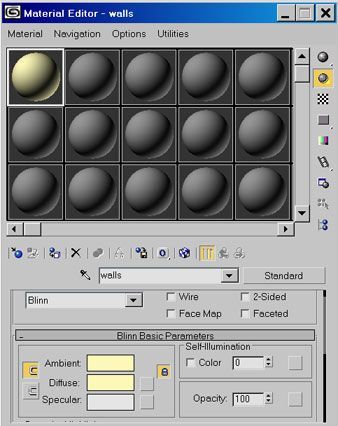 Figure 10-15
Select an empty sample slot and rename it as "walls". Click on the diffuse color swatch and select color R:252, G:248, B:183 from the color selector.
Apply the material to the walls by clicking on the sample slot and dragging it onto the walls geometry in the scene.
Select another sample slot and rename it as "wood". Click on the "standard" button on the right of the name field. This will open up the material/map browser.
Select "Mtl Library" in the Browse from area.
Select "Wood_Burloak" from the materials list.
Apply this material to the small table as well as the wooden blocks of the bed, except for the platform, which is supposed to made of fabric.
For applying material on the mattress, select another empty sample slot and click on the map button in front of the diffuse color swatch. In the material/map browser select the "new" option in the browse from area. Select "bitmap" from the list. This will open up a file dialog box. Browse to the maps/fabric folder in the 3ds max directory and select "TUTFRAME.TGA" bitmap.Now apply this new material to the mattress on the bed. Your perspective viewport will look somewhat like this figure: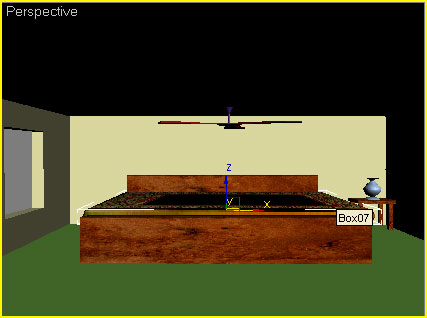 Figure 10-16
For the fan and the flower vase, you can give any color the same way you did for the walls. You can also apply any material from the library, the same way you applied for the wood. If you want to apply a bitmap texture, you can do it the way you did for the mattress.
Lets apply a simple material to the fan with a diffuse color R:251, G:221, B:186. For the flower vase, a diffuse color of R:255, G:255, B:255 i.e., pure white, will look the best.