Advanced Lighting
The Advanced Lighting panel offers options to use Advanced Lighting or Computer Advanced Lighting when Required. Advanced lighting can take a long time to compute, so these two options give you the ability to turn advanced lighting on or off.
The Render Output section enables you to output the image or animations to a file, a device, or the Rendered Frame Window. To save the output to a file, click the Files button and select a location in the Render Output File dialog box. Supported formats include .AVI, .BMP, .DDS, Postscript (.EPS), JPEG, Kodak Cineon (.CIN), .FLC, Radiance Image File (.HDRI), QuickTime (.MOV), .PNG, .RLA, .RPF, SGI's Format (.RGB), Targa (.TGA), and .TIF. The Device button can output to a device such as a video recorder. If the Rendered Frame Window option is selected, then both the Files and Devices buttons are disabled.
Render Output
The Render Output menu is as important as choosing which frames to render. If you do not complete this step, clicking on render will create nothing at all. You must select the Files button in order to decide the name of the output file, where it will be saved, and in what format. This may include a series of still images, or it may be an avi file using the DiVX codec.
When you choose to render a particular output type for the first time, you will be provided with the specific options for the chosen codec.
The Use Device option is related to an external video device that you may want to record to.
The Virtual Frame Buffer, if selected, will allow you to see each frame as it is rendered.
Net Render, if selected, will check to see if you have a network render farm setup and will request which frames it should render while other computers on your network are working hard to complete other frames.
Finally, Skip Existing Images refers to the possibility that you rendered using individual images rather than an AVI file and that for some reason the rendering was interrupted. You can resume the rendering without having to re-render existing images. Unfortunately, an AVI will need to be re-rendered rather than being appended too.
E-Mail Notiifcations
The process of rendering animation (or even a single frame) can be brief or it can take several days, depending on the complexity of the scene. For complex scenes that will take a while to render, you can configure Max to send you an e-mail message when your rendering is complete or if it fails. These options are in the Email Notifications rollout.
In addition to the options, you can enter whom the e-mail is from, whom it is to be sent to, and an SMTP Server.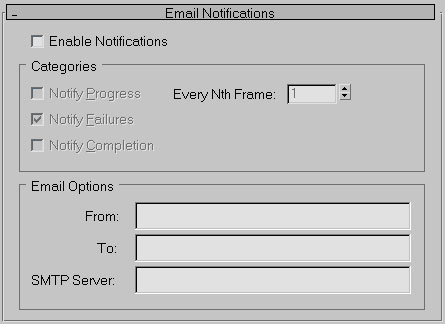 Figure 9-2: Email Notifications rollout
Assign Renderer
The Assign Renderer rollout displays which renderers are assigned to the production and ActiveShade categories, as well as the sample slots in the Material Editor. To change the default renderer, look in the Assign Renderer rollout in the Common panel of the Render Scene dialog box. Here you can select different renderers for the Production, Material Editor, and ActiveShade modes. For each, you can select from the Default Scanline Renderer, the mental ray Renderer, or the VUE File Renderer.

Figure 9-3: Assign Renderer rollout
Final Options
The Final Options provide some basic, but important features. The first permits you to choose between a Production and an Active Shade. The Production shade is the highest in quality, while Active Shade is a lower quality that renders much faster.

Figure 9-4: Final options
The Viewport option is also quite significant. Of the four possible views that are displayed on your screen at one time, you can choose which to render out. The perspective view, for example, will provide a 3D view whereas a front, right, and left view will be a 2D view.
Finally, by clicking on Render you confirm all the options and it will render out your still or video.