Rotate Gizmo
The Rotate Gizmo surrounds the selected object in a sphere. A colored line for each axis circles the surrounding sphere. As you select an axis and drag, an arc is highlighted that shows the distance of the rotation along that axis and the offset value is displayed in text above the object. Clicking on the sphere away from the axes lets you rotate the selected object in all directions.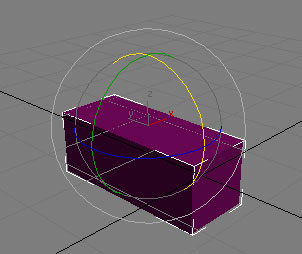 Figure 3-6: Rotate Gizmo
Scale Gizmo
The Scale Gizmo consists of two triangles and a line for each axis. Selecting and dragging the center triangle uniformly scales the entire object. Selecting a slice of the outer triangle scales the object along the adjacent two axes, and dragging on the axis lines scales the object in a non-uniform manner along a single axis.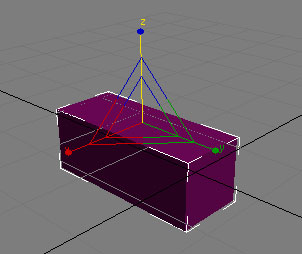 Figure 3-7: Scale Gizmo
Transform Type-In Dialog Box
You can specify precise values for moving, scaling or rotating the objects through Transform Type-In dialog box. This command provides more exact control over the placement of objects than dragging with the mouse.
You can enter numerical values or offsets in the Transform Type-In dialog box. You can open this dialog box by choosing "Tools>Transform Type-In" menu command or by pressing the F12 key.
Right-clicking any of the transform buttons opens the Transform Type-In dialog box, but the dialog box opens for whichever button is enabled, regardless of which button you right-click.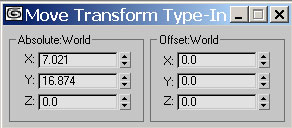 Figure 3-8: Move Transform Type-In Dialog box
The Transform Type-In dialog box is modeless and allows you to select new objects as needed or to switch between the various transforms. When the dialog box appears, it displays the coordinate locations for the pivot point of the current selection in the Absolute: World column.
Status Bar Type-In Fields
The status bar Type-In fields shows the position of the cursor or the status of a transform, and allows entry of new transform values.
When you move, rotate, or scale an object, the X, Y, and Z offset values appear in these fields.
The values depend on the type of transformation taking place. Translation shows the unit distances, rotation displays the angle in degrees, and scaling shows a percentage value of the original size.

Figure 3-9: Status bar type-in fields
You can also use these fields to enter values, like with the Transform Type-In dialog box. The type of transform depends on which transform button you select. The values that you enter can be either absolute coordinates or offset values, depending on the setting of the Transform Type-In toggle button that appears to the left of the transform fields. This toggle button lets you switch between Absolute and Offset modes.