Modeling is the process of creating custom objects and meshes. Max includes many different model types and includes even more ways to work with these model types.
The 3d models can be used for video games. The other uses of 3d models are animation for broadcast and architectural pre-visualizations.
Max includes the following modeling types:
Primitives
Primitives are basic parametric objects such as cubes, spheres, and pyramids. The primitives are divided into two groups consisting of Standard and Extended Primitives.
Shapes and Splines
Shapes are simple vector shapes such as circles, stars, arcs, and text, and splines are forms such as the Helix. These objects are fully renderable. The Create menu includes many parametric shapes and splines. These parametric objects can be converted to Editable Spline objects for more editing.
Polys
Polys are objects composed of polygon faces, similar to mesh objects, but with unique features. These objects are also available only as Editable Poly objects.
Meshes
Meshes are complex models created from many polygon faces that are smoothed together when the object is rendered. These objects are available only as Editable Mesh objects.
Patches
Based on spline curves; patches can be modified using control points. The Create menu includes two parametric Patch objects, but most objects can also be converted to Editable Patch objects.
NURBS
NURBS is an acronym for Non-Uniform Rational B-Splines. They are similar to patches in that they also have control points. These control points define how a surface spreads over curves.
Compound Objects
Compound objects is a miscellaneous group of modeling types, including Booleans, loft objects, and scatter objects. Other compound objects are good at modeling one specialized type of object such as Terrain or BlobMesh objects.
Particle Systems
Particle systems are a system of small objects that work together as a single group. They are useful for creating effects such as rain, snow, and sparks.
Editable Objects
Any object type can be converted into editable object type. You can convert objects by right-clicking on the object in the viewport and selecting the Convert To submenu from the pop-up Quadmenu, or by right-clicking on the base object in the Modifier Stack and selecting the object type to convert to in the pop-up menu.
Once converted, all the editing features of the selected type are available in the Modify panel, but the object is no longer parametric.
Normals
When you create an object, normals are generated automatically. Usually objects render correctly using these default normals. Sometimes, however, you need to adjust the normals.
Normals are vectors that extend outward perpendicular to the surface of an object. These vectors aren't rendered and are used only to tell which way the polygon face is pointing.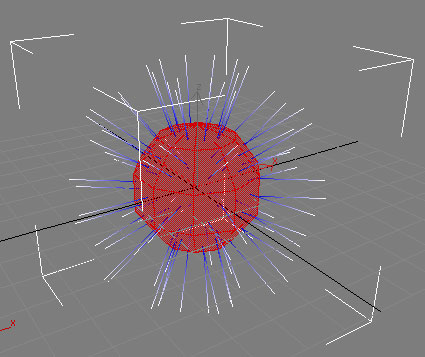 Figure 4-1: The Blue lines are Normals to the selected polygons
Normals are used to define which side of a face or vertex is considered the "out" side. The out side of a face or vertex is the side that gets rendered unless you are using two-sided materials.