Spot Light
A spotlight casts a focused beam of light like a flashlight, a follow spot in a theater, or a headlight. The only difference between a spotlight and a directional light is that the directional light is composed of all parallel light beams, while the spotlight's beams all emanate from one point. A target spotlight uses a target object to aim the camera.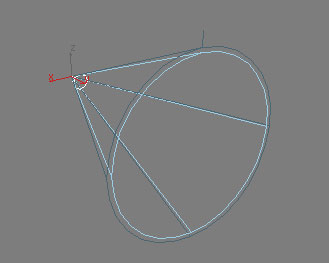 Figure 7-4: Spot Light
An omni light is simply a point in space that emits light omnidirectionally. You have the usual shadow, intensity, and color choices in the basic parameter rollouts.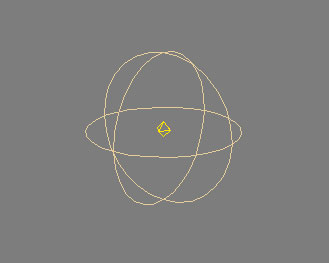 Figure 7-5: Omni Light
Omni lights can cast shadows and projections. A single shadow-casting omni light is the equivalent of six shadow-casting spotlights, pointing outward from the center.
Skylight
The Skylight light models daylight. It is meant for use with the Light Tracer. You can set the color of the sky or assign it a map. The sky is modeled as a dome above the scene. Figure 7-6: Skylight
Lights can be transformed just like other geometric objects. To transform a light, click on one of the transformation buttons and then select and drag the light.
Target lights can have the light and the target transformed independently, or you can select both the light and target by clicking the line that connects them. Target lights can be rotated and scaled only if the light and target are selected together. Scaling a Target light increases its cone or cylinder. Scaling a Target Direct light with only the light selected increases the diameter of the light's beam, but if the light and target are selected, then the diameter and distance are scaled.
An easy way to select or deselect the target is to right-click on the light and choose Select Target from the pop-up menu. All transformations work on free lights.
Placing Highlights
The Place Highlight (Ctrl+H) feature enables you to control the position and orientation of a light in order to achieve a highlight in a precise location. To use this feature, you must select a light object in the scene and then choose Tools>Place Highlight, or click the Place Highlight flyout button on the toolbar. The cursor changes to the Place Highlight icon. Click a point on the object in the scene where you want the highlight to be positioned, and the selected light repositions itself to create a specular highlight at the exact location where you clicked. The light's position is determined by the Angle of Incidence between the highlight point and the light.
Light Parameters
When a light is selected, several different rollouts appear. The options contained in these rollouts enable you to turn the lights on and off, select a light color and intensity, and determine how a light affects object surfaces.