Xref Objects
Many of the options in the XRef Objects dialog box, is the same as in the XRef Scenes dialog box.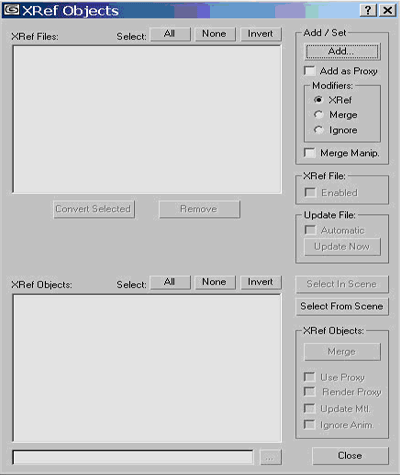 Figure 2-7: XRef Objects Dialog Box
XRef objects are slightly different from XRef scenes. XRef objects appear in a scene and can be transformed and animated, but the original object's structure and Modifier Stack cannot be changed.
The left side of the XRef Objects dialog box is divided into two sections. The top section displays the externally referenced files, and the lower section displays the objects selected from that file. You need to select a file so that you can see its objects.
An innovative way to use this feature would be to create a library of objects that you could load on the fly as needed. For example, if you had a furniture library, you could load several different styles until you got just the look you wanted.
You can also use XRef objects to load low-resolution proxies of complex models in order to lighten the system load during a Max session. This method increases the viewport refresh rate.
File Summary
The Summary Info dialog box is useful for maintaining the statistics on your files. You have to use the "File>Summary" Info menu command to open a dialog box displaying the number of objects, lights, and cameras; the total number of vertices and faces; and various model settings, as well as a Description field where you can describe the scene.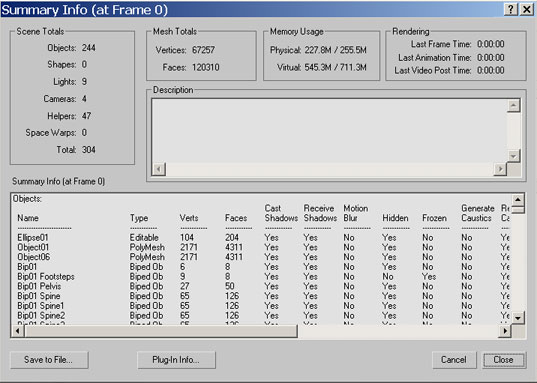 Figure 2-8: Summary Info Dialog Box

File Properties
File properties interface can be used to attach keywords and other descriptive information about the scene to the file. The "File>File Properties" menu command opens the File Properties dialog box. This dialog box includes three panels: Summary, Contents, and Custom. The Summary panel holds information such as the Title, Subject, and Author of the Max file and can be useful for managing a collaborative project.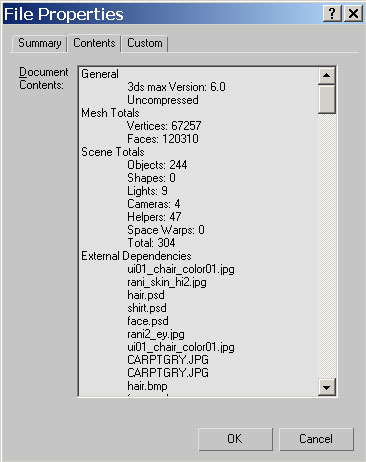 Figure 2-9: File Properties Dialog Box
The Contents panel holds information about the scene, such as the total number of objects and much more. Much of this information is also found in the Summary Info dialog.
You can also view the File Properties dialog box information while working in Windows Explorer, by right-clicking on the file and selecting Properties.