Archiving File
Max scene can be archived using "File>Archive" Menu command. Archiving a scene ensures that the entire necessary scene files like texture bitmaps and other data is packed along with the main scene file.
This is especially useful if you need to send the project to be accessed on another computer and you don't want to miss any ancillary files.
The default archive format is .zip. The Archive System lets you specify which archive program Max uses to archive your files. Maxzip is the default, but you can change it to whichever program you want to use.
Saving an archive as a .zip file compiles all external files, such as bitmaps, into a single compressed file. The File Type drop-down list of the File Archive dialog box also includes an option to create a List of Files. When you select this file type, a text file is created that lists all relevant files and their paths.
Importing
You can import an object or a mesh from another format file by choosing "File>Import" command menu. This opens the import dialog box.
The import dialog box looks like a typical Windows file dialog box. It has different import settings pertaining to different formats.
Another common import dialog box offers options to merge the imported objects with the current scene or to completely replace the current scene.
For many formats, you can also convert units on the imported file. For example, importing a 3D Studio file opens a simple dialog box. When you select the Convert Units option, Max assumes that the 3DS file is based in inches and converts it to the currently defined units.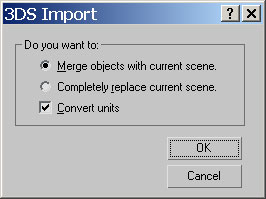 Figure 2-5: 3DS Import Dialog Box
If any of the object names in the imported scene match those in the current scene, an Import Name Conflict dialog box opens, allowing you to rename the imported objects, or you can Skip or Cancel the import.
Max can import many different formats including the following
3D Studio Mesh, Projects, and Shapes (3DS, PRJ, SHP)
Adobe Illustrator (AI)
LandXML/DEM/DDF
AutoCAD (DWG, DXF)
Kaydara (FBX)
Initial Graphics Exchange Standard (IGE, IGS, IGES)
Lightscape (LS, VW, LP)
StereoLithography (STL)
Wavefront Material and Object (MTL, OBJ)
VRML (WRL, WRZ)
VIZ Material XML Import (XML)
Third party import plugins can also be used for supporting more formats.
Exporting
You can export objects or meshes from Max into a different format. You access the Export command by choosing "File>Export" menu command. You also have the option to Export Selected (available only if an object is selected).

Max can export to several different formats, including the following:
3D Studio (3DS)
Adobe Illustrator (AI)
ASCII Scene Export (ASE)
Lightscape Material, Blocks, Parameters, Layers, Preparations, and Views (ATR, BLK, DF, LAY, LP, VW)
AutoCAD (DWG, DXF)
Kaydara (FBX)
Initial Graphics Exchange Standard (IGS)
JSR-184 (M3G)
Wavefront Material and Object (MTL, OBJ)
StereoLithography (STL)
Shockwave 3D Scene Export (W3D)
VRML97 (WRL)
Depending on the file type you choose, you might be presented with options available for that export choice. If a second dialog appears, choose the export options you want.
Xref Scenes
An Xref, meaning externally referenced, scene is one that appears in the current Max session, but that is not accessible for editing or changing. The scene can be positioned and transformed when linked to a parent object and can be set to update automatically as changes are made to the source file.
Choose File>XRef Scenes to open the XRef Scenes dialog box, which you use to load XRef scenes into a file.
Figure 2-6: XRef Scenes Dialog Box
XRef scenes allow a team working on a project to have access to each other's work without the risk of changing the files. A modeler can create a setting, a second modeler might create a character. The animator can externally reference the setting as a scene and animate the character in the setting without being able to make changes to the setting.