Camera Viewport
You can change any viewport to show a camera's viewpoint. To do so, right-click on the viewport's title, and select View and the camera's name from the pop-up menu. Any movements done to the camera are reflected immediately in the viewport.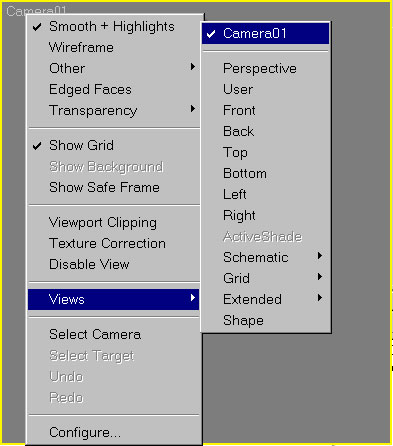 Figure 8-3: Setting Camera viewport  
Another way to select a camera for a viewport is to press the C key. This keyboard shortcut makes the active viewport into a camera view. If several cameras exist in a scene, then the Select Camera dialog box appears, from which you can select a camera to use.
You can turn off the camera object icons using the Display panel. In the Display panel, under the Hide by Category rollout, select the Cameras option. When selected, the camera icons are not visible in the viewports.
Creating Camera from View
Create Camera From View creates a free camera whose field of view matches the current viewport. At the same time, it changes the viewport to a camera viewport for the new camera object, and makes the new camera the current selection.
To create a camera from a view, activate a perspective viewport.Adjust the perspective viewport using Pan, Zoom and Arc Rotate until you have view you like. Leaving the viewport active, on the Views menu choose Create Camera from View. The Perspective viewport label now reads Camera.
If there is already a camera in the scene and the camera is selected, then Create Camera from View will not create a new camera from the view. It will match the selected camera to the view instead, and switch the viewport to display what the selected camera sees.
Creating Parameters Rollout
When a camera is first created, you can modify the camera parameters directly in the Create panel as long as the new camera is selected. After the camera object has been deselected, you can make modifications in the Modify panel's Parameters rollout for the camera.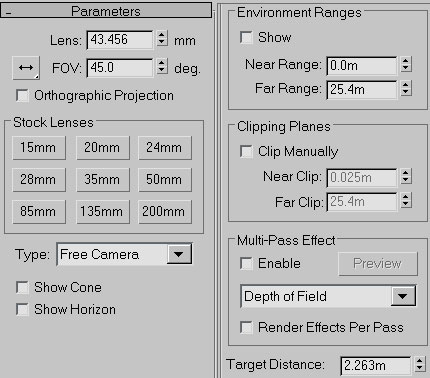 Figure 8-4: Camera Parameters rollout