About ExpertRating

ExpertRating is an ISO 9001:2015 certified company offering online certification and training services to individuals and companies in over 160 countries. Over 2,700,000 people in 160 countries have benefited from ExpertRating Online Certifications.

See where ExpertRating Certified Professionals are working .

ExpertRating ranks within the top 0.01% of the websites in the world in terms of traffic and popularity according to the Alexa Rankings. ExpertRating is one of the world's only ISO 9001:2015 certified companies (from TUV America) offering an Writing Course (Write & Publish Your Nonfiction Book) (leading to ExpertRating Writing Certification (Nonfiction Books)).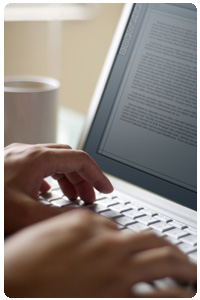 Writing Course (Write & Publish Your Nonfiction Book)
Whether you dream of becoming a full-time author, writing books to advance your career, or penning your memoir or family history, this fun and information-packed course will teach you how to plan, research, write, edit, and publish your masterpiece.
You'll see how to choose a writing style, structure, and slant that will appeal to your unique audience and keep readers hooked. You'll also get great ideas for editing your work and soliciting feedback from readers. Perhaps most important, you'll get invaluable strategies for setting a writing schedule, banishing writer's block, and actually finishing your book!
Writing Course (Write & Publish Your Nonfiction Book) Requirements:

Internet access, e-mail, the Microsoft Internet Explorer or Mozilla Firefox Web browser, and the Adobe Flash and PDF plug-ins (two free and simple downloads you obtain at http://www.adobe.com/downloads by clicking Get Adobe Flash Player and Get Adobe Reader).


Writing Course (Write & Publish Your Nonfiction Book)
We'll start with planning and strategy. You'll find out how to choose a topic and size up the competition developing a perfect, one-of-a-kind book concept that will stand out to agents and editors. Then you'll learn how to immerse yourself in your subject and get the information you need from research, interviews, and observation techniques.Next, we'll get into the heart of writing and editing.

Finally, we'll delve into both traditional and nontraditional publishing, helping you determine the right path for you and your book. You'll discover exactly how today's traditional publishing industry works and what techniques you can use such as crafting standout query letters and proposals to get noticed by editors and agents. You'll also master nontraditional publishing options such as self-publishing, on-demand publishing, and e-publishing. By the end of this course, you'll have all the tools at your fingertips to get your book completed and published using any method you choose.

Writing Certification (Nonfiction Books)
At just $129.99, the ExpertRating Writing Certification (Nonfiction Books) is your 'best value-for-money' option for enrolling in a Writing Course (Write & Publish Your Nonfiction Book). Payments can be made using all major credit cards or PayPal. All payments are through secure online transactions. ExpertRating is a PayPal verified seller with over 200000 sales through PayPal.

ExpertRating upholds the highest privacy standards, certified by TRUSTe. As a TRUSTe seal holder, ExpertRating complies with TRUSTe's strict program requirements, ensuring that your information is always safe. Other TRUSTe seal holders include Yahoo, Facebook, MSN, eBay, AOL.

ExpertRating is an ISO 9001:2015 certified company, which reflects that our courses and tests conform to the highest international quality standards. Our training material is prepared by thorough professionals with years of experience, and goes through several rounds of analysis by expert teams to help develop well balanced, comprehensive and meaningful content.

Our website is certified by McAfee SECURE to be safe from potential hacking threats. The McAfee SECURE™ trustmark indicates that our website has passed McAfee's intensive, daily security scans. This ensures you stay protected from links to dangerous sites, phishing, and other online dangers.