The ExpertRating Online Certifications in Business Management & Business Administration
ExpertRating is a trusted name in online testing and certification with over 200,000 certified professionals in over 60 countries in more than 200 skill areas. Through the ExpertRating Business Administration courses, you'll learn about various organizational structures and determine how to use leadership, motivation, and control for maximum impact. You'll understand how successful organizations use performance measurements to stay on track.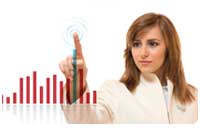 You will also explore the forms of business organization and learn about ethics and organizational politics. Attainment of the Business Administration Certifications offered by the ExpertRating, through education, work experience, and successful completion of examinations, can help to enhance a managerís advancement potential in the same or a different organization. These business administration courses are also an excellent aid for those looking for a Small Online Business Management Course.