The ExpertRating Online Humor Writing Course
(leading to ExpertRating Humor Writing Certification).
The ability to create humor is a skill many people don't have, yet wish they did. If you're interested in learning how to come up with jokes or witticisms on the fly, punch up dull material for an audience, or make a living as a comedy writer, this course will get you going.
Your instructor, an experienced comedy writer and working actress, will guide you through a wide range of comedic sources. You'll learn how to write a one-liner, use physical humor, target your audience, find the humor in everyday events and much, much more.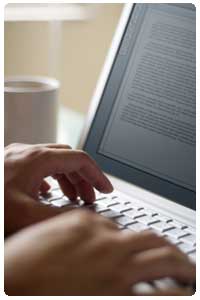 Once you've learned some of the methods of creating humor, you'll be ready to apply it to all aspects of your life. Punch up speeches and presentations so that the audience is instantly on your side. Mix laughter with learning in the classroom, and watch your students' attention spans grow. Add some humor to your web page and watch the hits explode as word gets out. Use your newfound sense of humor to entertain your friends, meet interesting people, and even make new friends!
For the aspiring comedy writer, there are invaluable techniques for finding the methods that work consistently and without the worries of whims, moods or blocks. There is even a section on marketing your humor, giving you the inside information you'll need to find your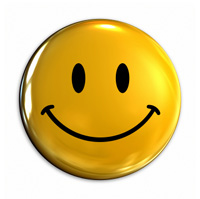 Learning should be fun, and this course is no exception. Filled with opportunities to laugh as you learn, "Get Funny" promises an entertaining and informative six weeks.
This course includes a knowledgeable and caring instructor who will guide you through your lessons, facilitate discussions, and answer your questions. The instructor for this course will be Joanna Sandsmark.

Joanna Sandsmark

About the ExpertRating Online Humor Writing Course instructor : Joanna Sandsmark graduated with honors from The University of Wisconsin - Madison with a degree in Communication Arts: Radio/TV/Film. As a voice actress, she's appeared in numerous commercial, industrial and animated projects, including the popular animated television series, "Rugrats". As a writer, she has written for DC Comics, was a staff writer on TV's "Weird Science", and has written five books, including "The Wisdom of Yo Meow Ma', and 'A Girl's Best Friend: Why Dogs Are Better Than Diamonds". She has taught both writing and voice-over in various formats, in the classroom and out, and is a member of the Writer's Guild of America, Screen Actors Guild, and American Federation of Television and Radio Artists.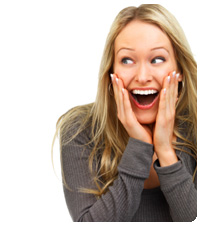 Get Funny! requirements: For taking this instructor led ExpertRating Online Humor Writing Course you need Internet access, e-mail, and the Microsoft Internet Explorer or Mozilla Firefox Web browser.

Testimonials: The ExpertRating Online Humor Writing Course has received overwhelming positive feedback and reviews from students around the world. Here are a few:


"Absolutely fabulous! My brain was stretched and allowed to soar, while my body got a better work out from all the laughs than from years spent in a fitness center. Thank you Joanna, you are funny, funny, funny!"

"As a university professor, I have designed and taught online courses myself, so I wanted to see what it was like to be an online student. I have very much enjoyed the course and I have greatly appreciated Joanna's teaching style, her support, feedback and constant encouragement. As a result I have learned a lot, more than I expected to, about many different areas of life, connected by humour. Thank you very much, Joanna."

"A very good course, I got a lot of information and encouragement."

"Delightful as well as useful. The references are particularly helpful. Thank you."

"Fabulous course and terrific instructor - I have highly recommended this course to others!"

"Fantastic class! I feel lucky to have had [Joanna] as an instructor. Thanks."

"Fantastic class! I feel lucky to have had you as an instructor. Thanks."

"Get Funny is such an awesome class. If you only have an ounce of humor Joanna can show you how to nurture it and make it grow. It takes a lot of effort on your part also, but that's the fun of it. It is such a great class that I give it 5 stars and 2 planets."

"Great class! The material was first class and quite fun to read. I finally found my inner funny (been looking for it for a while). Thanks!"

"I am a stand up comedian and signed up for the course as a refresher and to help me continue to write new material, which it did. It also taught me some new, valuble information. I even"