About ExpertRating

ExpertRating is an ISO 9001:2015 certified company offering online certification and training services to individuals and companies in over 160 countries. Over 2,700,000 people in 160 countries have benefited from ExpertRating Online Certifications.

See where ExpertRating Certified Professionals are working .

ExpertRating ranks within the top 0.01% of the websites in the world in terms of traffic and popularity according to the Alexa Rankings. ExpertRating is one of the world's only ISO 9001:2015 certified companies (from TUV America) offering an ExpertRating Online Blogging Skills Course (leading to ExpertRating Blogging Skills Certification).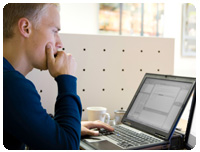 ExpertRating Online Blogging Skills Course
Learn how to create, manage, and promote your own blog, wiki, and audio and video podcast. Each of these amazing Web 2.0 tools gives us a chance to interact, share ideas, and collaborate with others from home, at work, or in a classroom.
You'll begin by developing a plan for the content, setup, and long-term maintenance of a blog, and then you'll use free blogging software to put that plan into action. Next, you'll discover how you can use wikis to facilitate group collaboration. You'll practice editing a wiki, and then you'll create your own. After that, you'll learn how to record a professional-sounding audio podcast with a very simple recording tool you already have. You'll edit the file with another free software program, add music to it, and then post it online for others to enjoy. Finally, you'll find out how to record a video podcast. You'll use pre-recorded video to learn the editing process, and then you'll apply what you've learned to your own video file. You'll edit it, add special effects, drop in a podcasting-safe music file, and then publish it online.
ExpertRating Online Blogging Skills Course Requirements:

Students should expect to download free online programs including an audio editing program during the class in order to create a blog, wiki, and podcast. Microsoft Windows XP or Vista; Internet access, e-mail, the Microsoft Internet Explorer or Mozilla Firefox Web browser, and the Adobe Flash and PDF plug-ins (two free and simple downloads you obtain at http://www.adobe.com/downloads by clicking Get Adobe Flash Player and Get Adobe Reader). Note: this is a PC supported course; however, Mac users may still enroll. Mac users should expect to make adjustments based on their operating system differences especially during the podcast portion of the course. In addition, Mac users will download different versions of audio editing software and video editing software that will differ from the directions presented in the course.


ExpertRating Online Blogging Skills Course
Through hands-on exercises, you'll discover the benefits of using free Web 2.0 tools like Blogger, Wikispaces, Audacity, and YouTube. Guided by an expert instructor, you'll find that creating Web 2.0 tools is much easier than you ever imagined. And by the end of this course, you'll be amazed how much you've accomplished.

Whether you want to use Web 2.0 tools for personal, business, or educational projects, this is the course for you!

Blogging Skills Certification
At just $129.99, the ExpertRating Blogging Skills Certification is your 'best value-for-money' option for enrolling in a ExpertRating Online Blogging Skills Course. Payments can be made using all major credit cards or PayPal. All payments are through secure online transactions. ExpertRating is a PayPal verified seller with over 200000 sales through PayPal.

ExpertRating upholds the highest privacy standards and complies with strict program requirements, ensuring that your information is always safe.

ExpertRating is an ISO 9001:2015 certified company, which reflects that our courses and tests conform to the highest international quality standards. Our training material is prepared by thorough professionals with years of experience, and goes through several rounds of analysis by expert teams to help develop well balanced, comprehensive and meaningful content.

Our website is certified by McAfee SECURE to be safe from potential hacking threats. The McAfee SECURE™ trustmark indicates that our website has passed McAfee's intensive, daily security scans. This ensures you stay protected from links to dangerous sites, phishing, and other online dangers.