About ExpertRating

ExpertRating is an ISO 9001:2015 certified company offering online certification and training services to individuals and companies in over 160 countries. Over 2,700,000 people in 160 countries have benefited from ExpertRating Online Certifications.

See where ExpertRating Certified Professionals are working .

ExpertRating ranks within the top 0.01% of the websites in the world in terms of traffic and popularity according to the Alexa Rankings. ExpertRating is one of the world's only ISO 9001:2015 certified companies (from TUV America) offering an ExpertRating Online Humor Writing Course (leading to ExpertRating Humor Writing Certification).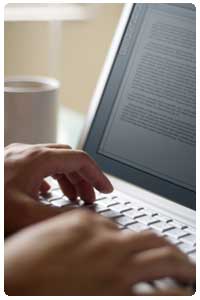 ExpertRating Online Humor Writing Course
The ability to create humor is a skill many people don't have, yet wish they did. If you're interested in learning how to come up with jokes or witticisms on the fly, punch up dull material for an audience, or make a living as a comedy writer, this course will get you going.
Your instructor, an experienced comedy writer and working actress, will guide you through a wide range of comedic sources. You'll learn how to write a one-liner, use physical humor, target your audience, find the humor in everyday events and much, much more.
Once you've learned some of the methods of creating humor, you'll be ready to apply it to all aspects of your life. Punch up speeches and presentations so that the audience is instantly on your side. Mix laughter with learning in the classroom, and watch your students' attention spans grow. Add some humor to your web page and watch the hits explode as word gets out. Use your newfound sense of humor to entertain your friends, meet interesting people, and even make new friends!
For the aspiring comedy writer, there are invaluable techniques for finding the methods that work consistently and without the worries of whims, moods or blocks. There is even a section on marketing your humor, giving you the inside information you'll need to find your
Learning should be fun, and this course is no exception. Filled with opportunities to laugh as you learn, "Get Funny" promises an entertaining and informative six weeks.
ExpertRating Online Humor Writing Course Requirements:

For taking this instructor led ExpertRating Online Humor Writing Course you need Internet access, e-mail, and the Microsoft Internet Explorer or Mozilla Firefox Web browser.


ExpertRating Online Humor Writing Course
Comedy is a serious business as making people laugh is one of the toughest things to do. A comedian or a performer causes humor by cracking jokes or through amusing situations, or by acting as a fool or by employing prop comedy. However, good jokes are not enough to be successful as a comedian. You need to be resolute and patient and observe the performances of other comedians very carefully. You need to develop self confidence and train for the stage by either taking acting or public speaking classes or by indulging in theatre.

It is also important to develop a style of your own and connect with the audience. The most important thing for a comedian, however, remains the timing. The ExpertRating Get Funny Certification course will give you tips on how to make your mark in the crowd of comedians.


Tags For Humor Writing Course:
Humor Writing, Humor Writing Training, Humor Writing Course, , Comedy Writing Course , Comedy Writing Training, , Writing Classes Online

Humor Writing Certification
At just $129.99, the ExpertRating Humor Writing Certification is your 'best value-for-money' option for enrolling in a ExpertRating Online Humor Writing Course. Payments can be made using all major credit cards or PayPal. All payments are through secure online transactions. ExpertRating is a PayPal verified seller with over 200000 sales through PayPal.

ExpertRating upholds the highest privacy standards and complies with strict program requirements, ensuring that your information is always safe.

ExpertRating is an ISO 9001:2015 certified company, which reflects that our courses and tests conform to the highest international quality standards. Our training material is prepared by thorough professionals with years of experience, and goes through several rounds of analysis by expert teams to help develop well balanced, comprehensive and meaningful content.

Our website is certified by McAfee SECURE to be safe from potential hacking threats. The McAfee SECURE™ trustmark indicates that our website has passed McAfee's intensive, daily security scans. This ensures you stay protected from links to dangerous sites, phishing, and other online dangers.


ExpertRating Online Humor Writing Course Coverage:
Testimonials
The ExpertRating Online Humor Writing Course has received overwhelming positive feedback and reviews from students around the world. Here are a few:
"Absolutely fabulous! My brain was stretched and allowed to soar, while my body got a better work out from all the laughs than from years spent in a fitness center. Thank you Joanna, you are funny, funny, funny!"


"As a university professor, I have designed and taught online courses myself, so I wanted to see what it was like to be an online student. I have very much enjoyed the course and I have greatly appreciated Joanna's teaching style, her support, feedback and constant encouragement. As a result I have learned a lot, more than I expected to, about many different areas of life, connected by humour. Thank you very much, Joanna."


"A very good course, I got a lot of information and encouragement."


"Delightful as well as useful. The references are particularly helpful. Thank you."


"Fabulous course and terrific instructor - I have highly recommended this course to others!"


"Fantastic class! I feel lucky to have had [Joanna] as an instructor. Thanks."


"Fantastic class! I feel lucky to have had you as an instructor. Thanks."


"Get Funny is such an awesome class. If you only have an ounce of humor Joanna can show you how to nurture it and make it grow. It takes a lot of effort on your part also, but that's the fun of it. It is such a great class that I give it 5 stars and 2 planets."


"Great class! The material was first class and quite fun to read. I finally found my inner funny (been looking for it for a while). Thanks!"


"I am a stand up comedian and signed up for the course as a refresher and to help me continue to write new material, which it did. It also taught me some new, valuble information. I even"


"I enjoyed the course very much. All I can say is that the family better watch out at Christmas this year!"


"I found this course quite by accident and thought it looked like fun. It was, and I am recommending it to anyone who appreciates humor because it truly is the best medicine. Joanna made the class truly amusing.";


"I had a lot of fun in this class, and would highly recommend it to anyone who is looking to learn about humor and how to use it effectively in their lives."


"I had a lot of fun taking this course, and learned new skills. On first reading the assignments, I was quite intimidated. However Joanna's clear lessons and comments helped me to complete all the assignments, including those I had thought were beyond me. Lots of helpful comments from Joanna, together with great encouragement. Thanks!"


"I had no idea there was so much involved in being funny! Not only did I get a better appreciation for humor and its' makings, I have really learned to observe and break down what I see more, therefore helping me to interact more with my world! It's not so small afterall! Thank you for all your expertise!"