ExpertRating is a trusted name in pre employment testing services offering cutting edge employment testing solutions to business giants such as Ericsson, Fox News, Elance, Convergys, GAP and IKEA to name a few. ExpertRating is currently one of the few employee testing companies in the world to have been certified under ISO 9001-2015 for its skills testing and training systems.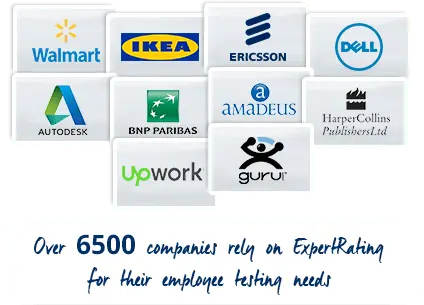 Quickly and efficiently hire talent:
ExpertRating Employment Testing Solutions have been chosen by hundreds of leading employers to quickly and efficiently identify the right talent for the right positions. The U.S. Department of Labor estimates that mis-hiring a $100,000 per year manager costs the employer about $300,000. Pre employment testing has been proven time and again to be the most effective way of reducing uncertainties in hiring, no wonder that the number of companies using our Pre Employment Testing services is growing at over 100% annually with a re-order rate of more than 75%.
Flexible testing options:
The ExpertRating employment testing system has been developed for ease of use and flexibility with respect to testing and pricing options. Employers can commence their employee testing program by simply signing up and paying a per test fee, as and when they need to test.
Unmatched Employment Testing Features for Companies
Flexible testing options
In-depth reporting features
Multiple payment options
Ease of use
Economical Testing
Integrated testing system:
The ExpertRating integrated testing system allows website owners to seamlessly integrate our testing system into their websites. This solution is ideal for employers, recruiters, ATS and HR software developers, educational institutions and websites that can benefit from skill assessment. Know more