About The Online Interior Redesign Certification

Interior redesign is a creative approach that involves transforming a space by applying different design principles to existing furnishings; breathing new life into spaces, and that too within budget. This Online Interior Redesign Certification, which is approved by the IDCEC, has been created for those individuals who want to learn innovative design techniques to make clever use of any space. The Interior Redesign Certification is designed to prepare you for a smooth start and long-term success of your career as an Interior Redesign Professional. If you have been contemplating acquiring training in Interior Redesign but were unable to figure out how to get started, this online Interior Redesign Certification is for you.


ExpertRating is an ISO 9001:2015 certified company offering online certification and training services to individuals and companies in over 160 countries. Over 20 million people in 160 countries have benefited from ExpertRating Online Certifications.

See where ExpertRating Certified Professionals are working
Obtain your Interior Redesign Certification from the leader in Online Skills Certification
ExpertRating is the exclusive provider of skills certifications on the world's top-four marketplaces for services - upwork.com; bayt.com; guru.com; and flexjobs.com - and is trusted by thousands of employers for certifying employable skills. When it comes to certifying your skills as an Interior Redesign professional, it is advisable to go with a reputed organization that is well-accepted by companies and employers.
Why Get Certified?
A certification obtained from ExpertRating - a leader in online skills testing and certifications - provides confidence to clients and hiring managers that you possess the essential knowledge and skills to be qualified as an Interior Redesign professional.

ExpertRating ranks within the top 0.01% of the websites in the world in terms of traffic and popularity, according to the Alexa Rankings. ExpertRating is also one of the world's few ISO 9001:2015 Certified companies (from TÜV America) offering an Online Interior Redesign Courseware (leading to ExpertRating Interior Redesign Certification).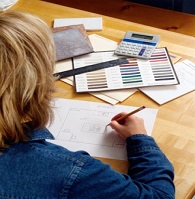 Interior Redesign Certification - $69.99
This online Interior Redesign Course will equip you with all the knowledge and skills that you need to become an Interior Redesign Professional. Upon completing the course, you will receive a certificate, a logo, and an online transcript that you can display on your website, on your stationery, and in your office. You can also display the credentials "Interior Redesign Certification" on all your business correspondence.
Online Interior Redesign Requirements:
For taking this online Interior Redesign Course, you need Internet access; an email account; and Google Chrome, Mozilla Firefox, Safari, or Microsoft Internet Explorer Web browser.
Why is ExpertRating offering this Interior Redesign Certification at such an affordable price?
The ExpertRating Interior Redesign Certification is being offered at a limited time special offer price. The price is due for revision shortly. Make the most of the special offer price by buying the courseware now.
What does the courseware include?
The Online Interior Redesign course includes the in-depth Interior Redesign Courseware and the exam fee. This is the "best value-for-money" Interior Redesign Program available till date.
List of Chapters
Interior Redesign Research
Interior Redesign Process
Interior Redesign Business Methods
Designing Your Business
Epoxy Coating Systems (Supplementary Study Material)
Building Information Modeling (BIM) (Supplementary Study Material)
Appendix






ExpertRating Interior Redesign Course
With the ExpertRating Interior Redesign Course, you will get to learn the nitty-gritty of interior redesigning.

When you choose the ExpertRating Interior Redesign Course, you can be sure that you are buying a premium international certification that is recognized by hundreds of private employers and government bodies in the US and other countries.

ExpertRating offers its training and testing services to some of the biggest and best companies in the world, such as Convergys Corp, UPS, GAP, Sony, Coke, Citrix, Deltek Corp, IKEA Systems and Ericsson, to name a few. See who uses ExpertRating training and testing services

Interior Redesign Certification - ExpertRating Advantages
At just $69.99, the ExpertRating Interior Redesign Certification is your 'best value-for-money' option for enrolling in a(an) Interior Redesign Program. Payments can be made using all major credit cards or PayPal. All payments are through secure online transactions. ExpertRating is a PayPal verified seller with 200,000+ sales through PayPal.

ExpertRating upholds the highest privacy standards and complies with strict program requirements, ensuring that your information is always safe.

ExpertRating is an ISO 9001:2015 certified company, which reflects that our courses and tests conform to the highest international quality standards. Our training material is prepared by thorough professionals with years of experience, and goes through several rounds of analysis by expert teams to help develop well-balanced, comprehensive and meaningful content.

Our website is certified by TrustedSite, formerly operators of McAfee SECURE™ to be safe from potential hacking threats. The TrustedSite, formerly operators of McAfee SECURE™ trustmark indicates that our website has passed McAfee's intensive, daily security scans. This ensures you stay protected from links to dangerous sites, phishing, and other online dangers.

Why choose ExpertRating


With ExpertRating, you get certified online quickly and are equipped with a storehouse of information through the in-depth courseware. This site is U.S. friendly: Hosted in the U.S.; Payments in U.S. Dollars; Payments received in the U.S. through a U.S.-based payment processor.

Interior Redesign
Course Coverage:
Testimonials
The ExpertRating Interior Redesign Course has received overwhelming positive feedback and reviews from students around the world. Here are a few:


"A must course to enhance your interior redesigning skills and learn the innovative design techniques to become a successful interior redesign professional."


"I would recommend this course! Well-structured with a simple exam. I felt beyond prepared for the interior designing industry."


"A well-equipped courseware! The questions at the end of every chapter were very helpful in the self-assessment. "

"I have gained lot of interior redesigning insights through this program. Very informative!"


"Thank you for such a great course. Full of knowledge. So far so good!"


"I purchased the Interior Redesign Certification course to further my training and skills in my current industry. It was very thorough, informative, and fun at the same time! The best part was being able to complete it at my own pace, from the comfort of my home."


"Appreciate the course content! It was worth the value for time and money."