About ExpertRating

ExpertRating is an ISO 9001:2015 certified company offering online certification and training services to individuals and companies in over 160 countries. Over 2,700,000 people in 160 countries have benefited from ExpertRating Online Certifications.

See where ExpertRating Certified Professionals are working .

ExpertRating ranks within the top 0.01% of the websites in the world in terms of traffic and popularity according to the Alexa Rankings. ExpertRating is one of the world's only ISO 9001:2015 certified companies (from TUV America) offering an Accounting Training Course (leading to ExpertRating Accounting Training Certification (Fundamentals)).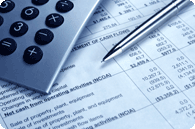 Accounting Training Course
Accounting careers are booming and the demand for accounting professionals currently exceeds supply. If you're interested in increasing your financial awareness and accountability while also gaining a marketable skill, this instructor led online accounting course is for you.
During the online accounting course you will learn the basics of accounting education such as double-entry bookkeeping, while also learning how to analyze and record financial transactions, as well as prepare various financial reports at the end of the fiscal period. Accounts receivable, accounts payable, payroll procedures, sales taxes, and various common banking activities will be discussed.

Enrolling for this course in Accounting Online will cover all the bases, from writing checks to preparing an income statement and closing out accounts at the end of each fiscal period. Suitable for either a small business or an individual household, this course is sure to increase financial awareness and accountability. This online accounting course offers the flexibility of learning from home while while being led by an experienced accounting instructor.
Accounting Training Course Requirements:

For taking this instructor led online Accounting Course you need Internet access, E-mail, and the Microsoft Internet Explorer or Mozilla Firefox Web browser, Acrobat Reader, and access to a calculator or adding machine, and a printer.


Accounting Training Course
According to the Bureau of Labor Statistics, U.S. Department of Labor, Occupational Outlook Handbook accounting is a field that's growing at a faster than average rate with an estimated 1.2 million accountants currently working in various industries including public agencies, corporations, educational institutions and charitable organizations. If you're interested in a career in accounting, now is an excellent time to jump in.

Whether you aim to be an Accounting Technician, or are looking for additional skills in accounting by pursuing an accounting short course or accounting courses online, Accounting careers are great for people who enjoy working with numbers and mastering the latest accounting software. According to the US Department of Labor statistics, the Employment opportunities for accountants and auditors are expected to increase by 18 percent between the years 2006 and 2016. This trend is faster than the average for any other occupations. Enrolling for this Accounting Course Online enables you to continue your job and upgrade your skills in accounting at the same time.

Accounting Training Certification (Fundamentals)
At just $129.99, the ExpertRating Accounting Training Certification (Fundamentals) is your 'best value-for-money' option for enrolling in a Accounting Training Course. Payments can be made using all major credit cards or PayPal. All payments are through secure online transactions. ExpertRating is a PayPal verified seller with over 200000 sales through PayPal.

ExpertRating upholds the highest privacy standards and complies with strict program requirements, ensuring that your information is always safe.

ExpertRating is an ISO 9001:2015 certified company, which reflects that our courses and tests conform to the highest international quality standards. Our training material is prepared by thorough professionals with years of experience, and goes through several rounds of analysis by expert teams to help develop well balanced, comprehensive and meaningful content.

Our website is certified by McAfee SECURE to be safe from potential hacking threats. The McAfee SECURE™ trustmark indicates that our website has passed McAfee's intensive, daily security scans. This ensures you stay protected from links to dangerous sites, phishing, and other online dangers.


Accounting Training Course Coverage:
Testimonials
The Accounting Training Course has received overwhelming positive feedback and reviews from students around the world. Here are a few:
"Wow, what a great course and truly made me think. Thank you!"


"Thank you so much for this course!! I am starting in the Accounts Payable Dept for the company I have been at. They were changing over the AP system, and I was just helping out. But I caught on quick, and now I am a full-time member of the Finance Dept!! I took this course to give me a better understanding of what Accounting is all about, and I am more than satisfied with what I have learned, and I am more confident with moving ahead in my career. Thank you again so much!!!"


"The class was very informative, helpful, and definitely taught all the basics of what I wanted to know. The professor's "lectures" were clearly written and her instructions on how to go about doing things were overall specific and not confusing. This was a great beginner level class!"


"Thanks for an interesting and helpful course."


"Thank you so much, Charlene!!! You were an excellent instructor, and I enjoyed your course a lot."


"Thank you! This was a wonderful course, I feel it is essential that anyone grasp the subject before relying on a computer program to do the work for them. I was familiar with terms already but felt I have a much stronger understanding now. Would very much like to see an advanced/another course by this same instructor, loved the style, great balance of assignments, practice, review etc. Thanks again!"


"My first online class - and I enjoyed it. Charlene knows her stuff!!"


"Charlene, I really enjoyed the class and your interaction. You were always very responsive and clear. The examples were very easy to follow. Thank you for all of your assistance!"


"After being a stay at home mom for 11 years and getting back into the workforce, this was a great way to brush up on my skills. Thanks!"


"I found it very interesting to be taking this course online. At first I wasn't sure I would be disciplined enough to sit and do the lessons and take the quizzes on my own. However, I enjoyed the course and looked forward to the mornings when a lesson was available online."