The ExpertRating Online Business Statistics Course
(leading to ExpertRating Business Statistics Certification).
Business Statistics provide unique, investigative insights to business needs and problems. The days of making critical business decisions by instinct or coin toss are long gone. If you are planning a career in business statistics or management, you cannot afford to miss this online Business Statistics course! Give yourself an employment advantage by developing analytical skills that are consistently in high demand.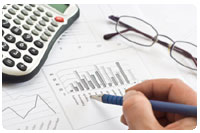 Careers in Business are booming and the demand for trained business statistics currently exceeds supply. If you're interested in increasing your business awareness and accountability while also gaining a marketable skill, this Business Statistics course is for you.

Online Business Statistics Course requirements: For taking this Online Business Statistics Course you need Proficiency with basic algebra, Internet access, e-mail, and the Microsoft Internet Explorer or Mozilla Firefox Web browser.