Why choose the ExpertRating - Typing Test (leading to typing speed certificate).


ExpertRating is one of the world's only ISO 9001:2000 Certified companies (from TUV America) offering an Online Typing Test leading to Certification.
ExpertRating is a trusted name in online testing and certification with over 400,000 certified professionals in over 60 countries in more than 200 skill areas. ExpertRating offers its testing services to the world's best companies such as Convergys Corp, Fox News, Sony entertainment, UPS, Citrix, Deltek Corp, IKEA Systems and Ericsson to name a few. See where ExpertRating Certified Professionals are working.

When you choose an ExpertRating certification you can be sure that you are buying a premium International certification that is recognized by hundreds of employers and Government bodies in the US and other countries.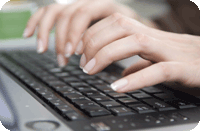 The ExpertRating Typing Test (Leading to typing speed and accuracy certificate) is by far the best value for money online typing Certification at $9.99.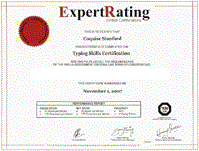 Click to enlarge typing certificate
---
Some Popular questions and answers about the ExpertRating Typing Test & Certification:
How much does the Typing skills certification cost and what does it include?
You can buy the Typing skills certification at a special offer price of only $9.99 which includes following services :

Unlimited practice attempts and 3 final test attempts out of which you can pick your best score.

World wide airmail delivery of the hard copy typing speed & accuracy Certificate. The certificate can be used to prove your certified status while seeking employment.

An online transcript that mentions your typing speed and accuracy which you can use to prove your certified credentials on the internet at any time. You also get rights to use the ExpertRating logo on your resume, letterheads and website.

How do I get certified?
The process of getting yourself certified is very simple. All you have to do is buy the ExpertRating Typing Skills Certification for $9.99. Log in to your ExpertRating account using your password. Take as many practice tests as you like to familiarize yourself with the testing system. After you are comfortable, attempt the final typing test up to 3 times. Choose your best score out of the 3 attempts that will go towards your hard copy typing certificate details. The results of the typing test appear as soon as it is completed, and your certificate is mailed immediately.
Is it possible to fail the typing test?
The Typing test has been designed to assess your typing speed and accuracy. As such, there are no passing marks, however you should attain a typing speed of at least 10 Words per minute and a minimum accuracy rate of 50% for your score to count (99% test takers are able to achieve this).


Buy the Typing Test with hard copy Certificate - $9.99

Over 4000 purchases through PayPal till date