About The ExpertRating Online Project Management Certification

The ExpertRating Online Project management Course is a well researched online course that has been developed for people who would like to master the science of Project Management. The course has been designed so that it is easily understood by beginners, people new to projects and seasoned managers.

With accelerated schedules driving many technology projects today, the smart project manager must rapidly retool their skill set.


ExpertRating is an ISO 9001:2015 certified company offering online certification and training services to individuals and companies in over 160 countries. Over 2,700,000 people in 160 countries have benefited from ExpertRating Online Certifications.

See where ExpertRating Certified Professionals are working

ExpertRating ranks within the top 0.01% of the websites in the world in terms of traffic and popularity, according to the Alexa Rankings. ExpertRating is one of the world's only ISO 9001:2015 Certified companies (from TÜV America) offering an ExpertRating Online Project Management Course (leading to ExpertRating Project Management Certification).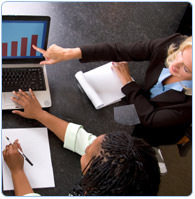 Online Project Management Certification - $99.99
This course offers a breakthrough model for dealing with the realities of managing projects at supersonic speeds. Learn to meet and win the challenges of truncated timelines, short-staffed project teams, skimpy budgets and crippling risks.
Online Project Management Course Requirements:
For taking this online Project Management Course you need Internet access, e-mail, and the Microsoft Internet Explorer or Mozilla Firefox Web browser.
Why is ExpertRating offering this Project Management certification at such an affordable price?
The ExpertRating Project Management Certification is being offered at a time limited special offer price. You can make the most of the $99.99 offer pricing as it is due for revision shortly.
What does the courseware include?
The in-depth Project Management courseware includes all the tools, techniques and concepts related to project management and has been developed keeping in mind the requirements of the PMP certification from the Project Management Institute.
List of Chapters
Project Management Certification Program
Project Initiation
Planning the Project
Resource Planning
Planning Time
Planning Project Quality
Building and Managing Team
Planning Risks
Procurement Planning
Project Plan Execution
Monitoring Project Plan
Controlling Change
Closing the Project






ExpertRating Online Project Management Course
Payscale.com real time salary surveys conclude that Project Managers with a Project Management Certificate earn a median salary of as high as $84,000 in the State of California with other states not far behind. The importance of certified project managers is set to become far more important in the times to come as projects become more complex with increased time and cost constraints.

When you choose the ExpertRating Online Project Management Course, you can be sure that you are buying a premium international certification that is recognized by hundreds of private employers and government bodies in the US and other countries.

ExpertRating offers its training and testing services to some of the biggest and best companies in the world, such as Convergys Corp, UPS, GAP, Sony, Coke, Citrix, Deltek Corp, IKEA Systems and Ericsson, to name a few. See who uses ExpertRating training and testing services

Online Project Management Certification - ExpertRating Advantages
At just $99.99 , the ExpertRating Project Management Certification is your 'best value-for-money' option for enrolling in a Project Management Program. Payments can be made using all major credit cards or PayPal. All payments are through secure online transactions. ExpertRating is a PayPal verified seller with over 200000 sales through PayPal.

ExpertRating upholds the highest privacy standards and complies with strict program requirements, ensuring that your information is always safe.

ExpertRating is an ISO 9001:2015 certified company, which reflects that our courses and tests conform to the highest international quality standards. Our training material is prepared by thorough professionals with years of experience, and goes through several rounds of analysis by expert teams to help develop well balanced, comprehensive and meaningful content.

Our website is certified by TrustedSite, formerly operators of McAfee SECURE™ to be safe from potential hacking threats. The TrustedSite, formerly operators of McAfee SECURE™ trustmark indicates that our website has passed McAfee's intensive, daily security scans. This ensures you stay protected from links to dangerous sites, phishing, and other online dangers.




Why choose ExpertRating


With the ever increasing requirement of executing projects in almost every industry, the role of the Project Manager has become all the more important. Certified Project Managers are one of the highest paid and most sought after professionals today. This site is US friendly - Hosted in the US - Payments in US Dollars - Payments received in the US through a US based payment processor.

Please click here to avail of group discounts and options for employers.
Online Project Management
Course Coverage:
Testimonials
The ExpertRating Online Project Management Certification Course has received overwhelming positive feedback and reviews from students around the world. Here are a few:


"The course was stimulating and has equipped me with tools which I will immediately apply to projects I have coming up and in my review of a project I just finished."


"I liked the course because it was taught from years of experience which gave an in-depth perspective 'from inside the trenches'. That is exactly what I needed."


"This is an excellent course. I have taken several courses in Online Project Management but this is the first that addresses risk assessment. I have learned a lot while taking this course and have already implemented some of the techniques I have learned in my current project. My team has commented they like these new changes."

"I gained valuable details through this course, and I intend to use the same to become a successful Project Manager."


"Very good course."


"Very good course, I was able to apply all the lessons to my current assignments at my job."


"On the whole, the course was well thought out and presented. I particularly liked the specific methodology presented for various project functions."


"As a Project Manager myself, and soon to open my own Alaska Native Project Management small business, this has been a great help. Good job."


"I have taken 1-3 day seminars and classes, but I don't think I learned as much in those multiple sessions combined as I did in this course. Thanks!"