About The Pharmacy Technician Program:

The Pharmacy Technician Certificate Program is designed to prepare you for entry-level pharmacy technician positions. Through the program, you will be introduced to medical and pharmaceutical terminology. You will also be familiarized with the basic anatomy related to the pharmacology of medications which, together with pharmaceutical calculations, is a major component of this courseware. In essence, this program will provide you with all the necessary information required to pass the National Certification Exam offered by the Pharmacy Technician Certification Board.

Buy the Pharmacy Technician Certificate Program - $2199.99

This course includes knowledgeable and caring instructors who will guide you through your lessons, facilitate discussions, and answer your questions. The instructors for this course will be:


Lorraine C. Zentz, CPhT, PhD

Betty Stahl

About the Online Pharmacy Technician Certification Training Course instructors :

Lorraine C. Zentz CPhT, PhD, has been a pharmacy technician since 1981. She lives in the small mountain town of Mesa, Colorado Ė population 400, and currently works on-call at the regional hospital in the oncology pharmacy in Grand Junction, Colorado. She has worked in all pharmacy arenas (retail, home health, hospital, oncology, and training/education) during her pharmacy career. Lorraine received her Bachelorís degree in Biology with a minor in chemistry, and her Masterís degree in Education with an emphasis in curriculum and instruction (the design and implementation of educational materials). She also completed her doctorate studies in adult education. She has held the position of Colorado State Coordinator for NPTA and Chairman of the Colorado Pharmacist Society Technician Academy and has been certified since 1985.

Betty Stahl has a doctorate in Pharmacy from Shenandoah University. She has taught pharmacy technician courses at ASA College in New York City and ACT in Arlington, Virginia over the past several years. Betty has also worked as a pharmacist at CVS and in hospital settings. She looks forward to working with you in the course.

Languages

Course Length

Requirements/Materials Included

This course is compatible with Windows Vista Operating System.

This course can be taken on either a Mac or a PC; however, most medical offices currently use PCs. A high speed internet connection is recommended.

Adobe Flash Player and Adobe Acrobat Reader are required for this course.

GES will provide the required materials for this program. They include: Pharmacy Practice for Technicians, 4th ed. Pocket Guide for Pharmacy Technicians

Pharmacy Calculations for Technicians: Succeeding in Pharmacy Math, 4th ed.

Pharmacology for Technicians: Understanding Drugs and Their Uses, 4th ed Pharmacology for Technicians Workbook Pharmacy Lab Kit Externship packet and Lab coat to be provided upon acceptance into the Externship Program.

Buy the Pharmacy Technician Certificate Program - $2199.99
Pharmacy Technician Certificate Program

ExpertRating in association with Gatlin Education Services offers in-depth, career training courses. Gatlin Education is the world's largest provider of online, instructor-supported training to renowned colleges and universities across the globe. ExpertRating is an ISO 9001:2008 certified company offering online certification and training services to individuals and companies in over 60 countries. ExpertRating offers its testing services to the world's best companies such as Convergys Corp, UPS, GAP, Sony, Coke, Citrix, Deltek Corp, IKEA Systems and Ericsson, to name a few.

It is very safe to buy from ExpertRating. ExpertRating Solutions has been reviewed by TRUSTe for compliance of their strict program requirements ensuring that your information is always safe.

With With ExpertRating, you get quickly certified online and become equipped with a storehouse of information through the in-depth courseware which has been developed by experienced professionals.

The Pharmacy Technician Certificate Program leading to Pharmacy Technician Certification is by far the best value-for-money Pharmacy Technician Certificate Program leading to Pharmacy Technician Certification at $2199.99.



Pharmacy Technician Certification Board
The PTCB, or the Pharmacy Technician Certification Board actively engages in developing, maintaining, promoting and administering a nationally accredited certification and recertification program for Pharmacy Technicians. This endeavor in turn forms an effective support of pharmacists which helps in advancing patient safety and healthcare. The Pharmacy Technician Board has the following as its postal address:

Pharmacy Technician Certification Board
2215 Constitution Avenue NW
Washington, DC 20037-2985





Buy the Pharmacy Technician Certificate Program - $2199.99







The requirement of trained Pharmacy Technicians is projected to increase by 31% by the year 2018, as per the projections made by the Bureau of Labor Statistics (US Department of Labor).

Pharmacy Technician Programs

Currently there are no standard training requisites for being a Pharmacy Technician. Some of the states may ask for a high school diploma or its equivalent. Most of the Pharmacy Technicians receive on-the-job training. Employers always prefer employees with a prior experience and formal training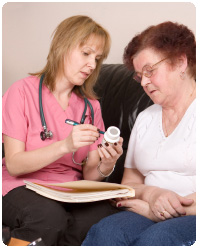 Course Outline
Orientation to Pharmacy
Pharmacy Law and Ethics
Medical and Pharmaceutical Terminology
Pharmaceutical Calculations
Pharmacology
Communication Skills Process
Insurance and Inventory Procedures
Lab Module
Clinical Rotations Hospital Research Paper
Final Comprehensive Exam
Click here to view the detailed syllabus

Pharmacy Jobs Outlook

There are excellent job opportunities for Certified Pharmacy Technicians. Those with prior experience and training stand a greater chance of being hired. According to the Bureau of Labor Statistics (US Department of Labor), the median hourly wages of wage and salary pharmacy technicians in May 2008 were $13.32.

Pharmacy Technicians

Certified Pharmacy Technicians have very good job prospects. With the increasing use of prescription drugs and with scientific research leading to newer drugs, there is going to be a huge demand for pharmacy workers in the years to come.

Online Pharmacy Technicians Training

The Online Pharmacy Training Course is a valuable course for students who are planning to work in the field of Pharmacy, or who have the need to interact with pharmacists and other healthcare professionals.

Pharmacy Tech Training

Dreaming of becoming a certified Pharmacy Technician? ExpertRating in association with Gatlin Education offers the Online Pharmacy Technician Training Course.

Occupations related to Pharmacy Technicians
Pharmacists
Pharmacy Aides
Dental assistants
Medical assistants
Medical records and health information technicians
Medical Coding professionals
Medical transcriptionists

Buy the Pharmacy Technician Certificate Program - $2199.99

Disclaimer: Neither ExpertRating nor GES guarantees that the Pharmacy Technician Program will meet the eligibilty requirements of all the states. Each state has its own Board of Pharmacy website with all the necessary information. You can find a list of all these websites at www.ptcb.org, the official website of the Pharmacy Technician Certification Board (PTCB).