About The ExpertRating Online Weight Loss Certification

Careers in fitness and healthcare are booming and the demand for trained Weight Management Trainers currently exceeds supply. If you're interested in increasing your fitness awareness while also gaining a marketable skill, this Weight Management Course is for you.


ExpertRating is an ISO 9001:2015 certified company offering online certification and training services to individuals and companies in over 160 countries. Over 2,700,000 people in 160 countries have benefited from ExpertRating Online Certifications.

See where ExpertRating Certified Professionals are working

ExpertRating ranks within the top 0.01% of the websites in the world in terms of traffic and popularity, according to the Alexa Rankings. ExpertRating is one of the world's only ISO 9001:2015 Certified companies (from TÜV America) offering an Online Weight Management Course (leading to ExpertRating Weight Loss Certification).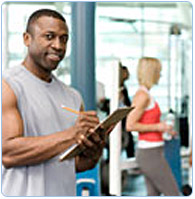 Weight Loss Certification - $69.99
More and more businesses are now starting to recognize the benefits of weight loss and fitness programs. Weight Management trainers provide unique, investigative insights into weight loss needs and problems faced by the overweight population. If you are planning to have a career in fitness, you cannot afford to miss this online Weight Management Course leading to Weight Loss Certification! Give yourself an employment advantage by developing fitness skills that are consistently in high demand.
Online Weight Management Course Requirements:
For taking this online Weight Management Course, you need Internet access, e-mail, and the Microsoft Internet Explorer or Mozilla Firefox Web browser.
Why is ExpertRating offering this Weight Loss certification at such an affordable price?
The ExpertRating Weight Loss Certification is being offered at a time limited special offer price. You can make the most of the $69.99 offer price as it is due for revision shortly.
What does the courseware include?
The Online Weight Management Course includes the in-depth Weight Management Courseware and the exam fee.
List of Chapters
Introduction to Weight Loss Management Course
An Obese World
Causes of Obesity
Health Risks of Obesity
Understanding Weight Loss and Fat Loss
Strategies for Losing Weight
Metabolism and Weight Loss
Diet Wise
Workouts for Weight Loss
Gender Differences, Aging and Weight Gain
Weight Management for Special Populations
Avoiding Weight Loss Pitfalls
Maintaining a Healthy Lifestyle
Frequently Asked Questions






ExpertRating Online Weight Management Course
Weight Loss Facts

50 Million Americans go on a diet each year, but only 5 % are able to maintain it.
According to Centers for Disease Control and Prevention, people losing weight gradually and steadily keep it off more productively.
An estimated 23.6 million Americans are diabetics. Being overweight increases the risk for Type 2 diabetes.
Weight loss is not all that difficult. It involves simple mathematics. If you use more calories than you consume, you will lose weight.

ExpertRating has certified several thousand Weight Management Trainers who are working with leading gyms across the U.S. and other countries. View list. When you choose the ExpertRating Online Weight Management Course, you can be sure that you are buying a premium international certification that is recognized by hundreds of private employers and government bodies in the U.S. and other countries. (Note : there is currently no governing body on Sports Nutrition certifications in the U.S.)

ExpertRating offers its training and testing services to some of the biggest and best companies in the world, such as Convergys Corp, UPS, GAP, Sony, Coke, Citrix, Deltek Corp, IKEA Systems and Ericsson, to name a few. See who uses ExpertRating training and testing services

Weight Loss Certification - ExpertRating Advantages
At just $69.99 , the ExpertRating Weight Loss Certification is your 'best value-for-money' option for enrolling in a Weight Loss Program. Payments can be made using all major credit cards or PayPal. All payments are through secure online transactions. ExpertRating is a PayPal verified seller with over 200000 sales through PayPal.

ExpertRating is an ISO 9001:2015 certified company, which reflects that our courses and tests conform to the highest international quality standards. Our training material is prepared by thorough professionals with years of experience, and goes through several rounds of analysis by expert teams to help develop well balanced, comprehensive and meaningful content.

Our website is certified by McAfee SECURE to be safe from potential hacking threats. The McAfee SECURE™ trustmark indicates that our website has passed McAfee's intensive, daily security scans. This ensures you stay protected from links to dangerous sites, phishing, and other online dangers.




Why choose ExpertRating


The main purpose behind Weight Management Course is to provide fitness and other trainers with insights into ways to address fitness needs of the obese and the overweight. Suitable for fitness enthusiasts, small fitness club owners, entrepreneurs or job seekers, this course is sure to increase weight loss management awareness. This site is US friendly - Hosted in the US - Payments in US Dollars - Payments received in the US through a US based payment processor.

Online Weight Management
Course Coverage:
Testimonials
The ExpertRating Online Weight Loss Certification has received overwhelming positive feedback and reviews from students around the world. Here are a few:


"Thanks so much. Good Course. I have taken a number of Weight Management courses. I enjoyed this one too, perhaps more than some."


"Good Weight Management course! Some of the lessons were quite long, but due to the nature of the material probably necessarily so."


"Great Weight Management course! Everything I expected and more." knowledge and expertise."

"I would never have guessed what it takes to achieve an athletic physique. The course was a lot of work, but very helpful to me as I launch a Weight Management trainer business. Thanks!"


"Best online Weight Management course I have taken so far. Learned a lot of useful information. Will actually be able to use the knowledge from this course in my life."


"The Weight Management lessons are written in terms that are easy to understand and follow."