The ExpertRating Online Time management Training Course & Certification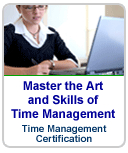 The ExpertRating Online Time Management Training Course (leading to certification) is a well researched 120 page online course that has been developed for people who would like to master time management skills and techniques. The Time management course has been designed so that it is easily understood by beginners and people new to management concepts and techniques.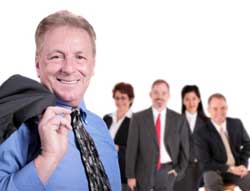 The course helps you to effectively manage time dependent activities in you work and life.

The time management training course includes several time management tools, time management techniques, time management tips and concepts that can be applied to most modern day work and life situations. This course is a must for managers, engineers, students, sales professionals and all people who have to multitask or handle several time dependent activities effectively.
Payments can be made using all major credit cards or PayPal. All payments are through a secure online transaction.

This site is US friendly - Hosted in the US - Payments in US Dollars - Payments received in the US through a US based payment processor.
Over 3000 purchases through PayPal till date
Why is ExpertRating offering this certification at such an affordable price?
The ExpertRating Time Management Course is being offered at a time limited special offer price. You can make the most of the $29.99 offer pricing as it is due for revision shortly.
What does the courseware include?
The in-depth courseware includes all aspects of time management including several scenarios, time management tips and techniques. The coverage of the Time Management Training Courseware is mentioned below:
A. Overview of Time Management
What is Time Management, Relevance of Time Management, Advantages of Time Management
Principles of Time Management
B. Monitoring Time
Time Stealers, Procrastination, Lack of Goals and Priorities, Working on Too Many Things, Visitors, Personal Organization, Unnecessary Meetings
C. Methods of Monitoring Time
Discipline, Personal Organization, Reward Yourself, Learn to Say "No", Micro Tasks
D. Planning Time
E. Defining Goals
Prioritizing Goals, Ascertaining Time, Making Decisions, Working in Teams or Groups, Deciding the Time Management Tool/s, Scheduling, Motivating Yourself, Reviewing the Plan
F. Time Management Tools & Systems
Timetables, Time Diary, To-Do Lists, Time Charts, Delegation
G. Technology
Action Priority Matrix, Nominal Group Technique, Pareto Analysis, Affinity Diagrams
H. Crisis Management
Features of Crisis, Crisis Management
Over 3000 purchases through PayPal till date