Why upgrade to the Online Master Trainer Certification

The Master Trainer Certification is a logical progression for achievement oriented personal trainers who would like to set themselves apart from the crowd. The course places you on a higher pedestal by polishing your skills as a fitness professional and enabling you to seek better opportunities in new or existing employment.
A few advantages associated with being a Certified Master Fitness Trainer

Stand out amidst the crowd of personal trainers with the Master Trainer credentials.

Learn lots of new skills and techniques that help to take your career to new heights.

Learn over 80 new and highly effective exercises that would be unheard of by many personal trainers.

Get that much wanted raise, or see new clients pouring in to your gym after seeing your newly acquired skills.
The Master Trainer credentials not only help to improve your resume and job prospects, but are also synonymous with world class professionals who believe in adopting the latest skills and techniques in fitness and health.

ExpertRating is one of the world's only ISO 9001:2015 certified companies (from TUV America) offering an Online Master Trainer Certification.
ExpertRating is a trusted name in online testing and certification with over 300,000 certified professionals in over 70 countries in more than 200 skill areas. ExpertRating offers its testing services to the world's best companies such as Convergys, Ericsson, University of California, GAP, UPS, Citrix, Deltek Corp and IKEA Systems to name a few. See where ExpertRating Certified Professionals are working.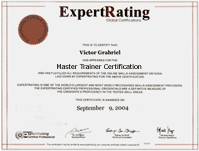 Some popular questions and answers about the Master Trainer Certification
How much does the Master Trainer Certification cost and what does it include?
You can buy the Master Trainer Certification at a special offer price of only $99.95 which includes the in-depth courseware and exam fee. You get the following services within the $99.95 fee:

150 pages of courseware including over 80 animated illustrations of various exercises.

World wide airmail delivery of the hard copy master trainer certificate. The certificate can be used to prove your certified status and does not mention the words "online".

An online transcript that mentions your score and which you can use to prove your certified credentials on the internet at any time.
How do I get certified?
The process of getting yourself certified is very simple. Buy the ExpertRating Master Trainer certification for $99.95. Log in to your ExpertRating account using your password. Go through the master trainer courseware (which could take you from 1-4 weeks depending upon how hard you work) and take the certification exam at your convenience. You can take the exam within 1 year of buying the certification. The result of the exam appears as soon as it is completed, and your certificate is mailed immediately.
What is the exam like?
The 40 minute exam is based upon the courseware that is provided along with the certification. If you have gone through the courseware properly you should not have a problem clearing the exam. The exam consists of multiple choice questions from all chapters of the courseware.
What happens if I fail the exam?
Incase you fail the exam, you can re-attempt the exam for $10. There is no compulsory renewal fee.