The ExpertRating Online Test Preparation Certifications
ExpertRating is a trusted name in online testing and certification with over 200,000 certified professionals in over 60 countries in more than 200 skill areas. You can prepare yourself for appearing in the above mentioned useful tests through these valuable ExpertRating courses. Some of these courses will help you improve your verbal skills, grammar and language fluency. In addition to preparing you for specific question types on both exams, these courses will give you pointers in time management, anxiety relief, scoring, and general standardized test-taking.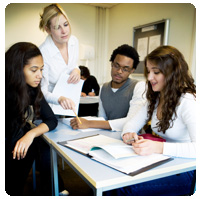 Weekly assignments will encourage you to work with your fellow classmates and your instructor to maximize your performance on all aspects of the verbal and written questions. These courses and their follow-ups will prepare you to excel in all sections of the undergraduate college entrance exams and provide you with the means to achieve your best potential score! The ExpertRating Test Prep courses will provide you the most personalized, efficient and effective preparation for getting admission into a good law or business school or help you obtain employment.