ExpertRating Online Aerobics Trainer Course leading to Aerobics Certification
Whether you want to work at a health club, train a client at his/her home or just want to learn the basics of aerobics exercises for yourself, the Online Aerobics Training course is the right option for you. If you already have the advantage of working with a gym, you can still take this Aerobics course to upgrade your knowledge and skills.
As an aerobics trainer, you will not only be concerned with the supervision of exercises and fitness routines, but play the multifaceted role of an advisor, supervisor and evaluator of several activities taking place during your work. This online aerobics course and program will cover several of the aerobics trainer responsibilities, aerobics fitness theory and aerobics exercises, besides other important aerobics concepts in detail.
More ExpertRating Health & Fitness Certifications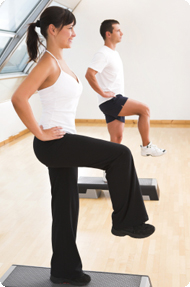 Course material illustrated with animated exercises.

Payments can be made using all major credit cards or Paypal. All payments are through a secure online transaction.



Testimonials: The ExpertRating Online Aerobics Certification Course has received overwhelming positive feedback and reviews from students around the world. Here are a few:


"Thanks so much. Good Course. I have taken a number of Aerobics courses. I enjoyed this one too, perhaps more than some."


"Good Aerobics course! Some of the lessons were quite long, but due to the nature of the material probably necessarily so."


"Great Aerobics course! Everything I expected and more."
knowledge and expertise."


"I would never have guessed what it takes to achieve an aethletic physique. The course was a lot of work, but very helpful to me as I launch a aerobics trainer business. Thanks!"


"As a stay-at-home Mom, I thoroughly enjoyed this Aerobics course. I now have plenty of resources at my disposal... and I feel I have really been enlightened. I'll be reading over these lessons multiple times as I have a 4-yr-old and a 5-yr-old."


"Best online Aerobics course I have taken so far. Learned a lot of useful information. Will actually be able to use the knowledge from this course in my life."


"The Aerobics lessons are written in terms that are easy to understand and follow."