ExpertRating Certificate of Accomplishment : All ExpertRating Certified Professionals who appear for a paid test or who purchase a certificate after taking a free test are provided with a high quality paper certificate of accomplishment which is fit for mounting. The dimensions of the certificate are 28 x 21.5 cms. The certificate is delivered through air mail from the ExpertRating logistics office and generally reaches within 3 weeks of taking the test. The certificate has been effectively used by thousands of people while securing jobs and as a formal proof of skills and abilities.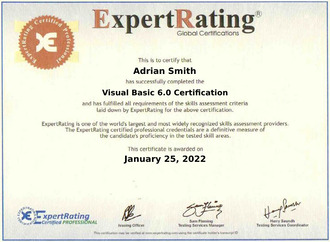 The ExpertRating Logo : All ExpertRating Certified Professionals are authorized to make use of the ExpertRating certified logo. The logo is a well recognized symbol of the test takers competence in a specific skill set and can be displayed at the following locations

- Resume

- Letter heads

- Visiting cards

- Website

The ExpertRating logos are skill specific and display the name of the skill. For example, the Excel 2000 logo is displayed below :



Logo usage guidelines : The following guidelines must be kept in mind while using the ExpertRating logo.

- Only display a logo for which you are certified. Do not attempt to display a logo for which you have not cleared an ExpertRating test. Simply registering for a test is not sufficient to use the logo

- Do not attempt to change the color scheme or layout of the logo. You may however change the overall size while keeping the proportions the same.

- When using the logo online, make sure it links to www.expertrating.com.